VaradDude630 is Offline
Real Name: Son Goku
Location: 439 East District, Mount Paozu, Japan
Age: 17 (02-19-02) Gender: Male
Registered: 05-06-12 03:33 AM (2722 days ago)
Posts: 1,246 Threads: 38
Post Words: 34,421 (28 word avg)
Level: 65 Experience: 2294838
Next Level: +40790 Exp Per Post: 2762 Exp
About
Hi. Welcome to my Biography! Enjoy your day on Vizzed!

My type:
What Cubone's mother looked like (look this is only a suggestion so don't start flaming me)-
Marokhan
Profile views since 15th May 2013-
Quote Wall:
[11:59 AM] Cooljey: oh whatever f*** you Varaddude
[11:59 AM] VaradDude630: Who? You? ok.
[12:00 AM] Cooljey: YOU SUCK YOU ASS-HOLE!
[12:00 AM] VaradDude630: Man why are you describing yourself?
[12:00 AM] Cooljey: You suck b*****.
[12:01 AM] VaradDude630: I know how you are don't start describing you personal life and LEAVE!
*cooljey left the room*
[12:02 AM] VaradDude630: lol
[10:07 AM] iN008: Chat Nazism.
[10:08 AM] VaradDude630: lol this lets me know your an European
[10:10 AM] iN008: And actually, let me finish my sentance this time.
[10:13 AM] iN008: Hitler was a painter.
---
My old stuff
-
2002: Born
2003: 1 yr old
2004: 3 years old
2005: Death
2006: Revived by Ninja Techniques
2007: Learned Martial Arts
2008: nothing
2009: Got Brown Belt
2011: Became Ninja
Today: I live in the silence of the Himalayas,waiting for a challenge.
---
My Pokemon Personality Test!
Result-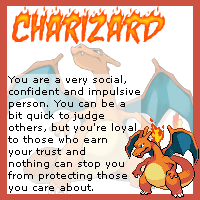 THAT'S WHAT I WANTED LOL!
Another one:
My Birthday on zodiac
---
My best friends
-
FunnyFurret: Mostly known as Furret or Ian, he was the guy I met in PKMN Emerald. He was gonna beat the 7th gym leader (Tate & Liza), at that time, I helped him so we became friends.
happy_timothy: He was my first friend, so we still know each other since 1 year.
TheeDragoniteMaster: A good friend who started to make layouts when I made him a trusted bro.
EvilAlu: Just met him Lol.
dragon111: We loved DBZ. He's permabanned
zelda2: Poopy spammer, thinks he's female. Loves pink, deserves perma ban. Check out my profile cmments and the planned accident's profile comments to see the crap done there.
I'm a Pokemon & Dragon Ball fan!
My Pokefarm-
---
OK bye bye bye bye!
---
Don't click this link.....
If you clicked the link, thanks.