Play Mortal Kombat (SCD) - Online Rom | Sega CD
Play Mortal Kombat online with Sega CD browser emulation for free! Mortal Kombat (SCD) game rom is loaded with features in our flash, java and rgr plugin emulators. Nothing to configure, we've done it for you!
Mortal Kombat Box Description
Prepare yourself for Mortal Kombat on Sega CD: Bigger.Better.Louder.Meaner. Incredible bone-shattering graphics, new animations and pulse-pounding sound-track give you all the flame-shooting, ice-blasting action of the #1 arcade smash! Let the tournament begin!
Mortal Kombat (Sega CD) Screenshots
Videos of Mortal Kombat Gameplay
Foodperson
03-03-15 06:38 PM
00:02:08
Views: 85
5/5
Foodperson's SEGA Game Song 6--Mortal Kombat SEGA CD Theme
There is currently no one playing this online
Mortal Kombat Game Description
Five Hundred years ago, an ancient and well respected Shaolin fighting tournament, held every 50 years, was corrupted by an evil and elderly sorcerer by the name of Shang Tsung. Shang was accompanied by Prince Goro, a warrior of the Shokan race (a four armed half-human/half-dragon). Knowing that if ten tournaments in a row were won by the Outworld champion, the Earth Realm would be conquered by evil and fall into darkness, Shang entered Goro in the tournament and had him defeat the great Kung Lao. Goro has been reigning supreme as the undefeated fighting champion for five hundred years now. As the last tournament required draws near, Raiden, Thunder God and protector of the Earth Realm, enacts a plan to tip the scales in the humans favor, Seven fighters step into the arena on Shang Tsung's mysterious island: Shaolin warrior Liu Kang, Special Forces operative Sonya Blade, the mercenary thug Kano, fame-seeking actor Johnny Cage, the ice wielding Lin Kuei warrior Sub-Zero and his undead adversary Scorpion, and Raiden himself.

Mortal Kombat is a side-scrolling 1 on 1 fighting game. Fighting is set as one on one kombat, allowing each player to perform a variety of punches, kicks, and special moves in order to defeat their opponent. When the opponent faces their second round loss, the winner can perform a finishing move called a "Fatality" on the loser. The Fatality is a move unique to each fighter that graphically kills the loser in a blood-soaked finale.

Mortal Kombat began its life as a 2-player arcade title. It is notable for its use of digitized actors to represent the game's fighters, as well as its use of copious amounts of blood during gameplay.
Mortal Kombat Reviews
Overall 9.1 Graphics 7 Sound 9 Addictive 7 Story 5 Depth 6 Difficulty 4
8.8
a rather decent port of mk1 for sega cd
SuperCrash64
Graphics -7 they are improved with more frames yet unfortunately the actual game its self look...
Graphics
7
Sound
9
Addictive
7
Story
5
Depth
6
Difficulty
4
Review Rating:
4/5
Submitted: 01-21-13
Updated: 03-15-13
Review Replies: 1
Mortal Kombat Highscores
fightorace
1. 2,212,500
TimeTrial:
00:39:10
09-29-14 11:11 PM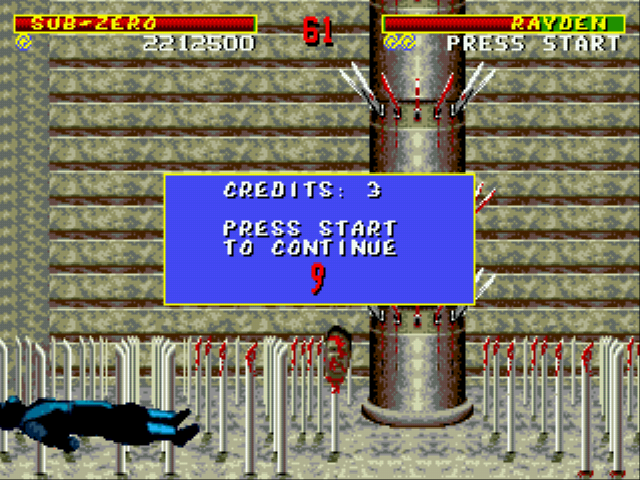 Pitted by Raiden
MechaMento
2. 355,500
TimeTrial:
00:03:11
02-18-14 11:54 AM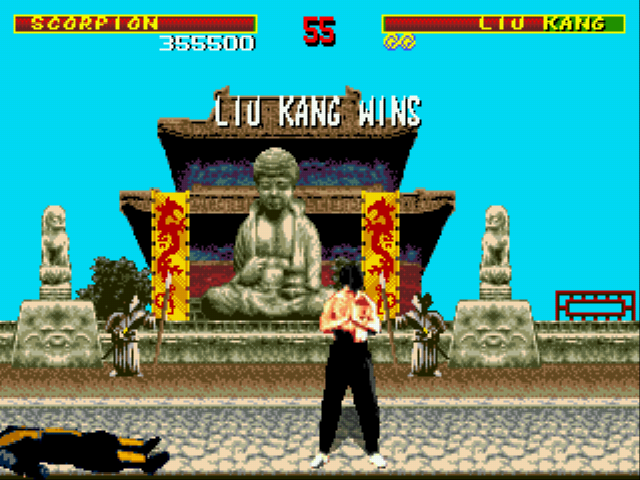 I suck...
Mortal Kombat Cheat Codes
Enter the following code at the title screen:

unlocks cheat menu Press Down, Up, Left, Left, A, Right, Down
Mortal Kombat Threads
There are no submitted threads for this Game
Mortal Kombat Guides and Walkthroughs
There are no submitted Guides for this Game
Users who own Mortal Kombat
Game Characters in Mortal Kombat
Comments for Mortal Kombat
Gojita
06-21-15 - 11:40 PM
rockrock5000 thats because you have to run this game on a 16bit display like Genesis. everything else can bge ran on 32bit
Lucaszombie
10-19-13 - 05:14 PM
This is the advanced Sega genesis time that i like! SCD is the best port of MK on my opinion
rockrock5000
12-02-12 - 04:09 PM
i dont know why but everything that is sega never works for me.it only gives me a dark screen with audio,i can hear it.but i cant see it LOL :(
deweyluigi
11-13-12 - 04:53 PM
looking back i realize my first comment sounds a little bit hatefull but it was not intended that way