Play Punch-Out!! (NES) - Online Rom | Nintendo NES
Play Punch-Out!! online with Nintendo NES browser emulation for free! Punch-Out!! (NES) game rom is loaded with features in our flash, java and rgr plugin emulators. Nothing to configure, we've done it for you!
Punch-Out!! Box Description
Punch-Out!! It's 13 tough matches in the minor, major and world circuits that lead to the final challenge - the World Video Boxing Association title fight. The ultimate bout against the newest WVBA Champ - Mr. Dream. Practice your hook and take a quick jab. Try to stay light on your feet as you dance left, then right, dodging punches while you throw your own. Boxers from around the world like Piston Honda, Glass Joe and Super Macho Man are all trying to knock you out of the ring. You've trained for months for this moment. There's the bell. Shake hands and come out boxing.
Punch-Out!! (Nintendo NES) Screenshots
Videos of Punch-Out!! Gameplay
Punch-Out!! Reviews
There are no submitted reviews for this Game
Punch-Out!! Highscores
Pravtsios
1. 21,550
TimeTrial:
00:10:20
01-25-15 12:27 AM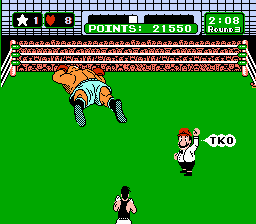 Punch-Out!! Cheat Codes
Passwords

Another World Circuit 135 792 4680, then press A+B+Select
Major Circuit 005 737 5423
Mr. Dream 007-373-5963
Super Macho Man 940 861 8538
View Credits 106 113 0120
World Circuit 777 807 3454

Beat Piston Honda with one punch

In the second fight against Piston Honda it is possible to win the bout by scoring only one punch. Dodge his punches but don't retaliate. Then when he goes into his Piston Punch routine, hit him in the stomach like in the first fight. As in the first bout, if you time it right he'll be down. Unlike the first fight however, he will be too unsteady to keep his feet. I've even seen him be unable to get up. Just keep in mind that the charging time for his Piston Punch routine is a lot shorter so you really have to time it just right or you'll just end up taking major damage.

Recovering

To gain some health before a round, press 'Select' on the screen before the round starts. This will cause Doc to pound on Mac's shoulder faster and your damage will be lowered.
Punch-Out!! Game Genie Codes
Extra bout:

Enter 135 792 4680 as a password, then press A

+ B + Select to access "Another World Circuit".


Busy signal:

Enter 800 422 2602 as a password to hear a busy signal.

Note: This was Nintendo's customer service phone number.


View credits:

enter 106 113 0120 as a password, then press A

+ B + Select.


Regain energy:

Repeatedly tap Select after a round ends to regain

energy. Note: This may only be done once per game.



Status Password
WVBA minor championship 005 737 5423
WVBA major championship 777 807 3454
Piston Honda 032 730 8442
Super Macho Man 267 913 7638
Don Flamenco 005 373 5423
Mike Tyson 007 373 5963
Punch-Out!! Threads
There are no submitted threads for this Game
Punch-Out!! Guides and Walkthroughs
Guide / Walkthrough
Creator
Date
Users who own Punch-Out!!
Game Characters in Punch-Out!!
Comments for Punch-Out!!
sauce man
04-23-17 - 06:00 PM
that moment when you beat mr dream/mike tyson reset the game and lose to glass joe
Jimpwns
07-11-15 - 10:29 AM
Mike Tyson's Punch-Out is better!
HaterUkleOP
11-06-14 - 08:31 PM
HOW DO YOU BEAT GREAT TIGER ples tell me
meatloaf898
07-30-14 - 05:16 PM
NES
meatloaf898
07-30-14 - 05:16 PM
Stop Glass joe
Tranzia
04-04-14 - 10:51 PM
The controls aren't reacting,and I'm pressing Enter/Start?
Tranzia
03-18-14 - 08:25 AM
The first time I got knocked out by Glass Joe... Hey,it was my first time,alright?!
BestGamer24
05-14-13 - 03:19 PM
I have this on the NES...
SuperCrash64
03-04-13 - 10:19 PM
anyways goomcake in order to beat king hippo . you need to what for him to open his mouth and do a face uppercut and do body punches its that simple
SuperCrash64
03-04-13 - 10:18 PM
not to be mean or anything
SuperCrash64
03-04-13 - 10:18 PM
haha goomcake u suck if u cant beat king hippo :D
shanezer
02-16-13 - 02:03 PM
its mrdream dunder thunder
mikeeem
01-15-13 - 05:26 PM
there were only 2 buttons on the 1st nintendo...shouldnt be hard to figure out how to get up!
Bluey5
11-20-12 - 10:15 PM
This game is very funny and fun. The first two opponents just look plain stupid! Poor little Mac! This game is awesome!
jordicon207
08-25-12 - 02:39 AM
How do I get up
Wolv
06-30-12 - 10:42 AM
UHHUH!
goomcake
06-25-12 - 05:56 PM
i can't beat king hippo he blocks everything!!!
graycheese24
06-17-12 - 07:20 PM
I beat Mr.Dream EASY
Wolv
06-17-12 - 07:54 AM
hello?
spongeboy6
06-14-12 - 08:25 AM
AHHH I CANT BEAT SODA POPINSKI
spongeboy6
06-14-12 - 07:37 AM
anyone here
Pudini
06-08-12 - 12:37 AM
clasic.
jona_808
05-29-12 - 06:44 PM
all you have to do to beat king hippo is punch his mouth when he is not blocking it with his hand. then punch him in his belly and repeat until knocked down and he wont get up afterthat
Gamemaster1234
05-17-12 - 07:58 PM
i love this f***ing game
Balino
05-07-12 - 07:45 AM
for bald bull u have 2 ways to knock him. 1: punching him out (capt obvious). 2: wait him to charge on you with his special move, just before he is throwing is bloody uppercut punch him with a low punch