WarpStarFerret is Offline
WarpStarFerret
2nd Place Feb. '11 VCS Hit OPS on 1-28-11 (340 posts) Hit Ravering 2-2-11 (547) Ravering+ on 6-25-11 (2601 posts) Hit Veneeval 3-24-12 (3765 posts)
Vizzed Elite
Age: 30 (12-17-90) Gender: Male
Registered: 12-26-10 06:00 PM (3994 days ago)
Posts: 4,145 Threads: 77
Post Words: 166,518 (40 word avg)
Level: 116 Experience: 16865521
Next Level: +458572 Exp Per Post: 6103 Exp
Last Post: 07-22-16 06:25 PM
Restricted Thread
About
Warp's Bio
key:
Green = Accomplished
Red = Not Accomplished
Blue = Accomplished, then lost
Accomplishments aimed for:
Powerlevels:


Regular Member

Trusted Member

Elite Member

Local Mod (Stepped down)


Post Count:


50 posts

100 posts

250 posts

500 posts

1000 posts

1500 posts

2000 posts

2500 posts

3000 posts

3500 posts


4000 posts

5000 posts

10,000 posts


Post Rank:


Top 100

Top 50

Top 40

Top 30


Top 25

Top 20

Top 15

Top 10


Syndromes:


1/35th Vizzed Syndrome

Trooperness A+ Syndrome

Official Post Spree Syndrome

Ravering Syndrome

Ravering Syndrome+

Veneeval Syndrome


Veneeval Syndrome+

Member duration:


One Month

Three Months

Six Months

One Year


Two Years

Three Years

Five Years


Records: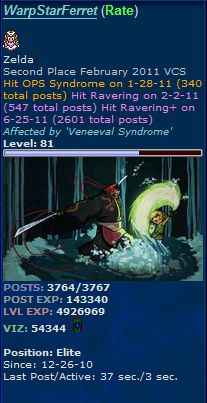 Finally got Veneeval Syndrome! =D
2nd Place February 2011 VCS
7th member of the Ravering Syndrome+ Club
4th member of the Veneeval Syndrome Club
Quotes Wall:
pacman1755--
WarpStarFerret :
legacyme3 :
tj4bigred : Post spree much?
geeogree--
pacman1755 : it's called spam fest
---
WarpStarFerret--
legacyme3 : Now you should maintain Veneevel for as long as you can! >
legacyme3--
WarpStarFerret :
Hell. No.
I am not going to try to hold onto this.
It would kill me.
---
legacyme3--
Congrats.
And only 100 of those posts were posts about getting Veneeval, or talking about how much posting you were doing.
WarpStarFerret--
legacyme3 : *Cough cough*
At least I hit it.
And most of my posts were good upstnading posts.
I'm now the 4th member of the Veneevel Syndrome club, only 3 people got it before me! EVER!!! >
tj4bigred: Get in here yo! I just spaced for a second is all.
tj4bigred--
I thought about not posting here because you forgot about me, but then I was like...
OMG POSTCOUNT PLUS
So congrats. You will forever be a spamming legend.
Warp
legacyme3 :
Same time next weekend?
---
OTHER STUFF
I FINALLY have a 10+ page thread! w00t!!! (11-14-11)
Page Comments
Hello ,i am Shandi Cabrera from united states of America and i am supportive,caring and also i have a passionate of true love in my heart. i just went through your profile today on this site then i pick interest in you and i will like us to know each other more to establish a good relationship and please try to write me at ( shandiby02@gmail.com) then i send you my pictures then introduce myself more better to you ok, thanks..