Play Castlevania Retold (Castlevania Hack) - Online Rom | Nintendo NES
Play Castlevania Retold online with Nintendo NES browser emulation for free! Castlevania Retold is a rom hack of Castlevania (NES). Play it with our flash, java and rgr plugin emulators. Nothing to configure, we've done it for you!
Castlevania Retold (Nintendo NES) Screenshots
Videos of Castlevania Retold Gameplay
There are no submitted videos for this Game
There is currently no one playing this online
Castlevania Retold Reviews
There are no submitted reviews for this Game
Castlevania Retold Highscores
mrjiggyfly
1. 999,900
TimeTrial:
01:10:49
11-14-12 10:28 AM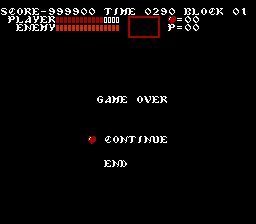 Castlevania Retold Threads
There are no submitted threads for this Game
Castlevania Retold Guides and Walkthroughs
There are no submitted Guides for this Game
Users who own Castlevania Retold
There are no users who own this Game
Comments for Castlevania Retold
SacredShadow
01-21-14 - 01:24 PM
I agree, at least it does work, a lot of games relating to the original don't seem to work very well...
dekker101
04-25-11 - 11:08 PM
why is ever thing green and blue ahhhh!!
ConnieLynchitz
03-02-11 - 03:06 PM
Well at least it works.