Play G.I. Joe (NES) - Online Rom | Nintendo NES
Play G.I. Joe online with Nintendo NES browser emulation for free! G.I. Joe (NES) game rom is loaded with features in our flash, java and rgr plugin emulators. Nothing to configure, we've done it for you!
G.I. Joe (Nintendo NES) Screenshots
Videos of G.I. Joe Gameplay
There are no submitted videos for this Game
G.I. Joe Game Description
Snake Eyes is one of five characters you will use in your long battle. Receive vital information transmitted from Joe headquarters by General Hawk. Cling to walls while dodging a barrage of enemy fire. Find gun symbols to power up your massive arsenal of weapons. Catch enemy vehicles like the BuzzBoar. Fight the Cobra SeaRay, one of many enemy bosses!
G.I. Joe Reviews
Overall 9.1 Graphics 6 Sound 7.5 Addictive 7.5 Story 7.5 Depth 8 Difficulty 7.5
8.2
G.I Joe A Real American Hero
tornadocam
G.I Joe was a popular toy in the 1980's and 1990's. The figure toy line was so popular that it even ...
Graphics
6
Sound
7
Addictive
7
Story
8
Depth
8
Difficulty
8
Review Rating:
3/5
Submitted: 04-23-15
Review Replies: 2
G.I. Joe Highscores
cmasterprice
1. 158,000
TimeTrial:
00:14:16
11-22-12 10:06 AM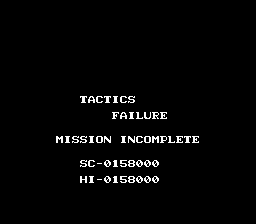 I suck
G.I. Joe Guides and Walkthroughs
There are no submitted Guides for this Game
Users who own G.I. Joe
Game Owner Name
Completeness
Condition
B
T
S
Play Online
Game Characters in G.I. Joe
Comments for G.I. Joe
DarthChop
04-20-19 - 02:33 PM
I The game runs... but the old power-up cheat of pressing start and select together doesn't work. Just have to play carefully. lol
Awesome5000
10-07-15 - 03:59 PM
another one of nintendos best
asdren
02-28-15 - 03:24 PM
Amazing game
JahEmperah
04-15-14 - 12:23 PM
Game does not Work...Error Message!
no 8120
02-11-14 - 08:21 AM
hi
DarthChop
02-11-14 - 06:53 AM
Can't get the game to run... keeps giving me errors.
nesrules8
10-01-11 - 10:12 AM
hi
roman dog bird
03-30-11 - 09:28 PM
I can't play the game. When the game comes on, the select arrow goes rapidly back and forth between "New Game" and "Pa ssword". Does anyone else have this problem?
djfullmoon
12-01-10 - 07:13 AM
Best ever!!
Kingshorty
06-24-10 - 06:47 PM
no doubt:0)
HellfireExec
09-15-09 - 09:54 PM
awesome game...great memories!