Play Gradius Generation (GBA) - Online Rom | Game Boy Advance
Play Gradius Generation online with Game Boy Advance browser emulation for free! Gradius Generation (GBA) game rom is loaded with features in our flash, java and rgr plugin emulators. Nothing to configure, we've done it for you!
Gradius Generation (Game Boy Advance) Screenshots
Videos of Gradius Generation Gameplay
There are no submitted videos for this Game
Gradius Generation Reviews
Gradius Generation Highscores
nguyenminhthien..
1. 595,300
TimeTrial:
01:18:00
07-19-14 08:15 AM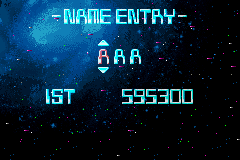 same Aldynes game
Diamond982
2. 595,100
TimeTrial:
00:59:22
05-03-14 12:08 PM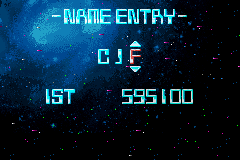 Like a boss!!!! :)
Gradius Generation Threads
Gradius Generation Guides and Walkthroughs
There are no submitted Guides for this Game
Users who own Gradius Generation
There are no users who own this Game
Comments for Gradius Generation
dexterkkk
07-18-17 - 08:49 AM
Gradius Advance/Galaxies
MusicalMinerdude
02-21-16 - 04:31 PM
Lags the most on emulators. Not so much on an actual GBA. By the way, why Konami excluded the challenge stages from the EU/USA versions of this game, I don't know.
Diamond982
05-10-14 - 12:15 PM
Awesome game
nguyenminhthien..
06-07-12 - 09:20 AM
so hard...
nguyenminhthien..
06-07-12 - 07:01 AM
same same Aldynes game