Play Sonic Zoom Online GEN Rom Hack of Sonic the Hedgehog - - Playable Sonic Zoom (GEN)
Play Sonic Zoom online with Sega Genesis browser emulation for free! Sonic Zoom is a rom hack of Sonic the Hedgehog (GEN). Play it with our flash, java and rgr plugin emulators. Nothing to configure, we've done it for you!
Sonic Zoom Game Description
The crazed scientist, Dr. Robotnik, has acquired all of the Chaos Emeralds! He's using their powers to transform South Island to meet his desires by filling the landscapes with bottomless pits, dangerous spikes, and deadly robots powered by innocent woodland creatures! It's up to our speedy blue hero, Sonic the Hedgehog, to get back the Chaos Emeralds and return the landscapes to their former glory and free the animals!

Features:

• New zones.
• New music.
• New graphics.
• New coding.
• New boss stages.
• Every special stage has been reworked.
• Etc.
Videos of Sonic Zoom Gameplay
BlueBlur93
04-07-17 04:45 AM
00:19:10
Views: 16
5/5
THE END ALREADY??? | Sonic Zoom #3
BlueBlur93
04-05-17 11:56 AM
00:13:48
Views: 9
5/5
A WHOLE LOTTA BLUE! | Sonic Zoom #2
BlueBlur93
04-03-17 04:33 AM
00:14:40
Views: 26
3/5
IT LOOKS SO DAMN PRETTY! | Sonic Zoom #1
Sonic Zoom Reviews
There are no submitted reviews for this Game
Sonic Zoom Highscores
blaze800000
1. 99,540
TimeTrial:
00:00:00
03-27-20 05:46 AM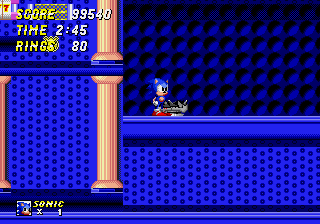 Sonic Zoom Threads
There are no submitted threads for this Game
Sonic Zoom Guides and Walkthroughs
There are no submitted Guides for this Game
Users who own Sonic Zoom
There are no users who own this Game
Game Characters in Sonic Zoom
Comments for Sonic Zoom
There are no submitted comments for this Game