Play Daze Before Christmas (SNES) - Online Rom | Super Nintendo
Play Daze Before Christmas online with Super Nintendo browser emulation for free! Daze Before Christmas (SNES) game rom is loaded with features in our flash, java and rgr plugin emulators. Nothing to configure, we've done it for you!
Daze Before Christmas (Super Nintendo) Screenshots
Videos of Daze Before Christmas Gameplay
There is currently no one playing this online
Daze Before Christmas Game Description
Christmas is a time where people get together and give others presents and spend all day eating food. But there's only one problem this year. You see, while Santa was sleeping in his bed, the cold and evil snowman spooked all the elves away, and the Timekeeper has stolen Santa's plans from his house. There won't be any Christmas if Santa doesn't stop them.

In Daze Before Christmas, you're Santa. According to the game's Christmas calender, you have 24 areas to explore such as factories, workshops, caves, and more. Each area is filled with nasty enemies like penguins, jack-in-the-boxes, helicopters, snowmen, and many others. Furthermore, after every five areas, Santa has to come face-to-face with not only The Evil Snowman, The Timekeeper, and Louse the Mouse, but also Mr. Weather.

Santa's health is represented by five Santa hats. When Santa is hit by any one of his enemies, one hat is lost. If Santa loses all of his hats, then he will lose a life. He will then have to restart at the beginning of the area, unless he passes a gold bell somewhere in the area. When you explore each area, Santa can collect presents that contain a mini-Santa (aka: Extra Life), a red hat, or he may release an elf. Santa should be careful when opening these presents as some of them may contain bombs or other enemies. If Santa manages to find a spinning star, he must get it as this will take him to the next area.

Santa kills his enemies by throwing magic at them. In almost each area, Santa can get a cup of hot cocoa. Doing this will transform him into Anti-Santa, a type of Santa who wears nothing but white, grows Satan's horns on top of his head, is invincible, and comes equipped with a hammer in which he can use to bonk enemies with. The Anti-Santa business only lasts for 20 seconds, but this can be changed via the Options menu.

Daze acts like one of those platform games where you run through the level, shoot at enemies, and proceed to the exit. However, there are some areas where the gameplay changes, and these areas involve Santa flying through the sky in England, Russia, Japan, and the USA, and dropping presents in chimneys to score points. The game also uses a password-saving system, where entering a password given will allow gamers to restart at the beginning of a specific area, in case they happen to run out of lives.
Daze Before Christmas Reviews
There are no submitted reviews for this Game
Daze Before Christmas Highscores
Daze Before Christmas Speedruns
iN008
1. 00:23:57
04-02-13 01:06 PM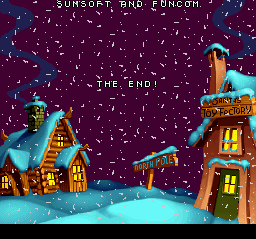 jerryaberry
2. 00:55:24
12-30-12 07:31 PM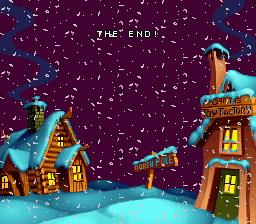 Daze Before Christmas Threads
Daze Before Christmas Guides and Walkthroughs
There are no submitted Guides for this Game
Users who own Daze Before Christmas
There are no users who own this Game
Comments for Daze Before Christmas
sonicbros
12-09-13 - 08:07 AM
This is a fairly decent platformer and an appropriate time to play it
jerryaberry
01-02-13 - 07:20 PM
Thanks for updating my speedrun screenshot Davideo7!
Davideo7
12-31-12 - 12:36 PM
The screenshot shows 3324 seconds so that verifies how long it took you. Now sure why the script didn't update the time but I'll go into the DB and update it tomorrow.
jerryaberry
12-30-12 - 12:22 AM
Not sure why my speedrun time is 0. The video will be up soon to show that is impossible.
sourman
12-20-12 - 08:45 PM
hard but Christmassy fun
Davideo7
12-16-12 - 12:21 PM
Just letting everyone know that none of these high score submissions count for the RGR Competition unless they have a video to go with it.
Davideo7
12-04-12 - 01:25 PM
This month's speed run competition is now for this version of the game instead of the genesis version.
AnthrozilWarroi..
12-25-11 - 05:41 PM
What the? lol Hey did you know that in Japan, they tie dogs to rockets and set them off in order to throw off Santa's course? This game proves it! =P
xX_OMGwaffles_Xx
12-24-11 - 01:21 PM
emulator be closed -__-
Greymantle
12-13-11 - 12:57 PM
I would say just knowing this spot earns me top score as anyone can do it but knowing it is invaluable!
Greymantle
12-13-11 - 12:56 PM
I found a loophole in Wood Factory area where you can get infinite points. About halfway through there's a save point where you can get about 2500 points and an extra life just opening two boxes next to each other..
toadnick
12-04-11 - 08:07 PM
I'm stuck on Wood Factory. How about you guys?
BROCKN
02-06-11 - 03:58 PM
hi
alby
01-23-11 - 04:37 AM
cool game havent played for 10 years
noobbazuka
12-20-10 - 01:24 PM
HI
erdi
12-10-10 - 03:41 PM
Hmm thanks jflow!You know i may retry but i dont know because i dont really like this game a lot :( but maybe ill try ;)
jflow78
12-08-10 - 12:37 PM
Don't give up erdi, just look around the level for all the gifts. You can also go back through the level and recollect all the gifts after you die, I didn't do that. Come on, keep your head up.
erdi
12-07-10 - 08:21 AM
Oh the new high score is just too much i give up on this
RayTheDark
12-06-10 - 09:45 AM
197750
RayTheDark
12-06-10 - 09:45 AM
my score is
RayTheDark
12-06-10 - 09:45 AM
tnx
erdi
12-06-10 - 09:45 AM
congrats :)
RayTheDark
12-06-10 - 09:45 AM
bye
erdi
12-06-10 - 09:45 AM
anyway bye
RayTheDark
12-06-10 - 09:44 AM
i finushed the game yey