Play Bomberman '94 (TG) - Online Rom | Turbo Grafx
Play Bomberman '94 online with Turbo Grafx browser emulation for free! Bomberman '94 (TG) game rom is loaded with features in our flash, java and rgr plugin emulators. Nothing to configure, we've done it for you!
Bomberman '94 (Turbo Grafx) Screenshots
Videos of Bomberman '94 Gameplay
mvhupsel
08-30-13 10:34 AM
00:05:35
Views: 21
5/5
Vizzed Netplay Summer Tournament Playoffs - Kogarasumaru VS Flamesofashes5712
Vanelan
04-05-18 08:00 PM
00:17:32
Views: 31
5/5
Vizzed Bomberman '94 Spring 2018 Tournament - Week 1
gamerforlifefor..
09-02-15 04:53 PM
00:02:20
Views: 19
5/5
Vexin' Volcano
gamerforlifefor..
05-05-17 10:04 PM
00:12:30
Views: 36
5/5
Bomberman 94 Tournament Week 5 Friday 8 PM CT Match: gamerforlifeforever vs Barathemos vs CPU vs CPU
ruanito
06-01-16 11:55 AM
00:44:31
Views: 23
5/5
SPEED RUN PART 2
>>
Click Here
to View All
Videos
>>
There is currently no one playing this online
Bomberman '94 Featured Review
Bomberman '94 Review made by TornadoMudkip
Graphics ~ 9/10
The graphics of this game are brilliant, for a classic game.
If you walk, this is just looking that you're walking in the game, and that's a good part of this game.
The character design is also looking awesome, the Bomberman people are looking great, especially that you can choice between nine different characters in multiplayer modes. Some of them are: Fat Bomberman, Girl Bomberman, Old Bomberman etc.
New ideas are also into this game including the ability to ride a kangaroo (Which is looking almost the same as Yoshi.) into single player and multiplayer modes. This makes you stronger and its very handy to use a kangaroo.
The power ups are looking obvious, you can see pretty easy, which power up is good or bad.
Like the skull one, you can see directly that it's bad, which is pretty nice in my opinion.
There are in single player mode also bosses, the design of them is very funny like the Banana boss.
I can't stop laugh if I see that boss!
Total there are ten areas in multiplayer mode, you can choose between them, into single player modes you need to follow the story so that means you can't
s
elect an area. Some of the areas are: a jungle area, a sea area, an ice place etc. All of the areas are looking smashing!
Overall I think this game has splendid graphics, I really appreciate them.
Sound ~ 7/10
The sound is not that bad but could be a little better, if I hear the sound, I love it because it's sounds really classic, which is great if you ask me.
The main reason why it's a little worse is because the sound in every area is the same at multiplayer mode.
Lucky in single player mode, the sound isn't the same everywhere, which is a lot better in my opinion. Every area has a different sound, I love the jungle one the most because that sound gives me a burning spirit and fills me with compassion. If that is so, I really love to keep on with the game and I'll not give up, that makes the sound good. The jungle sound also makes me cheery, with that, I'll feel very happy.
Overall I think the sound is good, I should loved the sound more if multiplayer mode has more different sounds into the game. I just enjoy the fact, if there are some different sounds in the game.
Addictiveness ~ 8/10
Another nice part of this game, this game is very fun to play, especially if you play with more people, because then you want to beat your friends/rivals all the time! You can enjoy the game so very much if you play with more, it's just a fact to play with friends is very fun! Sadly there are only ten areas to beat, so you need to repeat some in multiplayer mode. But still you can't be easy bored.
In single player mode you must beat the evil ones, so that means you must never give up, that's a way to win, you can also practise with your friends, these are some tips to become better, both helped for me, I'm even better now!
Overall I think the addictiveness is amazing because you always love to play with your friends. Multiplayer is better than single player at this part.
Story ~ 6/10
Aww.. that's really sad, multiplayer mode doesn't have a story.. but single player has!
The Bomberman people of Bomber Planet lived in peace and protected by five spirits, until... the evil ones (kind of a robot army) came to the Planet. Through the fact that the evil ones came to the Planet, the five spirits were destroyed, splitting Bomber Planet into five pieces! It's your job as Bomberman to restore the Bomberman Planet and to defeat the evil ones! To do this, you must defeat a lot enemies. This is a long journey but for sure you can beat it! In my opinion, the intro let us see the story a little, that's pretty nice.
Many games have a story like this, a lot of Mario games for instance.
That's a little sad because I really love to see a story which is completely original.
Overall I think the story could be better, like adding something new which isn't in other games.
I also loved to see a story for multiplayer mode, I think it would be very awesome to play a new story with your friends.
Depth ~ 7/10
This game has good offers, like defeating your friends and enemies. Also it's really great to devise a strategy and if you try yours out. Every time you can think about a strategy, which is wonderful.
But there isn't a lot to do, at single player mode. You can beat it, if you are really amazing in Bomberman in one hour and some more minutes! Which is really short in my opinion.
In multiplayer mode is also not very much to do, you can only play together with your friends.
This could be a little more extensive, than you can do something more.
Overall I think this could be better as well, but it isn't that worse, every game has positive and negative parts into it.
Difficulty ~ 7/10
The games starts easy at single player mode, but becomes more difficult later, which is brilliant to do in my opinion because if a game starts to hard, it wouldn't be fun anymore and you don't get a feeling that you want to keep on with the game. It's also smashing that this game isn't too easy or too hard. Personally I think the difficulty is average, which is good.
In multiplayer mode, there isn't really a difficulty, every player is different so the one is hard to beat and the other is easy to beat. Still there are some COM players, they act in the game really stupid if you ask me because sometimes they kill themselves.
Overall I think that the difficulty is awesome in single player mode, this is one of the best games if you look at difficulty.
Overall ~ 8.3/10
This Game was really fun to play, challenging sometimes for me because I'm not very good into this game. I think that this Bomberman game is the best of the whole world. < Yeah I can say that easy, this is the only Bomberman game that I've played so far, but I think I'll play some more Bomberman games because it's a fact that I really loved this game.
The best thing in this game is that you can play with your friends, which is super amazing in my opinion of course.
I highly recommend that you try this game out, it's definitely worth playing. :)
Graphics
9
Sound
7
Addictive
8
Depth
7
Story
6
Difficulty
7
Bomberman '94 Game Description
Bomberman '94 is a top down strategy game. Control your Bomberman through various levels defeating multiple enemies and plenty of bosses. Each level consist of blocks for exploding and some blocks that don't explode. At times you will need the non-exploding blocks as shelter. The blocks that do explode reveal power-ups and eggs. The eggs are the unique twist to this version of Bomberman. When you get a egg, it hatches into a kangaroo. There are multiple kangaroo types, each with their own unique ability. You hop on the back of the kangaroo and utilize it's ability. If you happen to walk into an explosion the kangaroo takes the damage and dies and you continue to live. Another unique feature in multiplayer is you can choose your character. Pick one of 9 such as Miner, Tiny, Fat, Cop, Punk(On cover), Lady, Old man, Robot and the original Bomberman.After selecting your character get ready for battle as you are placed in 1 of the 4 corners of the arena. Now just blow your way through the blocks and attack some opponents. Watch out for their bombs and remember to dodge your own. There are also many arena's to choose from. Each arena has it's own twist such as trap doors, an igloo to hide in, conveyor belts and more.
Bomberman '94 Reviews
Overall 8.8 Graphics 8 Sound 6.7 Addictive 8 Story 6 Depth 6.7 Difficulty 7
8.3
Bomberman '94 Review made by TornadoMudkip
TornadoMudkip
Graphics ~ 9/10 The graphics of this game are brilliant, for a classic game. If you walk, this is ...
Graphics
9
Sound
7
Addictive
8
Story
6
Depth
7
Difficulty
7
Review Rating:
4.4/5
Submitted: 08-03-13
Updated: 08-27-13
Review Replies: 6
8.2
Bomberman '94 review!
SacredShadow
Hey guys, it's Razor-987 here with another review! Today I will be reviewing Bomberman '94 which cam...
Graphics
8
Sound
5
Story
5
Depth
5
Difficulty
6
Review Rating:
4.1/5
Submitted: 02-11-14
Review Replies: 4
9
Bomberman 94 Reveiw
Dauntez
I love the game...
Graphics
7
Sound
8
Addictive
8
Story
7
Depth
8
Difficulty
8
Review Rating:
3/5
Submitted: 07-03-23
Review Replies: 0
Bomberman '94 Highscores
8bitNESPlayer
1. 860,300
TimeTrial:
02:06:08
06-16-16 11:33 AM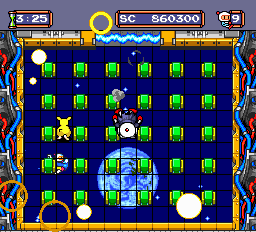 jerryaberry
2. 603,000
TimeTrial:
02:00:32
06-03-16 12:48 AM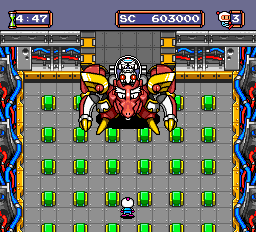 Bomberman '94 Speedruns
ruanito
1. 01:29:29
05-31-16 08:20 PM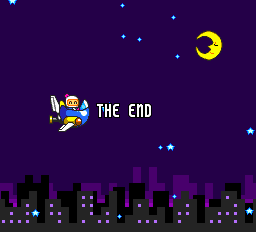 I DID IT!
jerryaberry
2. 02:34:22
06-01-16 12:04 AM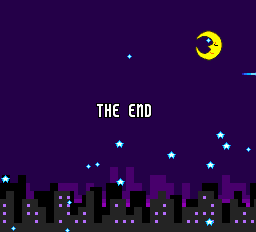 Bomberman '94 Cheat Codes
0515 Final Level
2200, 6800, 5120, 7420 Level 1
4501, 8111, 7421, 1051, 3351 Level 2
4502, 8112, 7422, 1052, 3352 Level 3
6803, 0513, 9723, 3353, 5653 Level 4
8114, 2814, 1134, 5654, 7954 Level 5
Bomberman '94 Guides and Walkthroughs
There are no submitted Guides for this Game
Users who own Bomberman '94
Game Owner Name
Completeness
Condition
B
T
S
Play Online
Game Characters in Bomberman '94
Comments for Bomberman '94
Frestor
02-10-19 - 01:27 PM
odio ese cangrejo del boss 3,menos mal que estan los savestates porque sino seria super tedioso ese boss.
MusicalMinerdude
04-06-17 - 08:52 PM
OK, I seriously need to keep on the lookout for the Sega port by Westone. Gonna sound brilliant on my Model 1 Genesis, especially with my Bluetooth speaker hooked up to it! You can never go wrong with Bomberman, unless the game's Act Zero!!
evilcon09
11-18-16 - 06:55 PM
I'm plan on doing some netplay. But The time zones is a bit tricky
ruanito
06-01-16 - 02:22 PM
I break mine into 2 parts and now it worked.
jerryaberry
06-01-16 - 01:15 PM
I had to break mine into 2 parts. Also I'd try to plug directly into your modem/router, I seem to get less errors that way.
ruanito
06-01-16 - 06:59 AM
It's hard for me to put a vídeo on vizzed, it failed 2 times already.
DELETED 523753
07-09-15 - 12:27 PM
All in favor of calling this "The Official Game of Vizzed?" XP
thing1
04-10-15 - 08:31 PM
I WON A MATCH!!! AH HA HA HA!!! 1-15-1 against Forest Dragon today... why am I so proud of myself. XD
Patrick Star
03-08-15 - 08:04 PM
The best party game on Vizzed.
anthonio
12-24-14 - 02:18 PM
:333
thing1
10-02-14 - 01:55 AM
Love this game, even though i am not very good at it.
floobadoo
07-27-14 - 09:27 PM
I often get a glitch were bomberman starts ignoring my button presses, then he walks on his own and kills himself by running into an enemy.
TheClassic Gamer
07-11-14 - 09:09 AM
who wants to team up
blazehawk12345
04-01-14 - 02:06 PM
cool game
merf
06-14-13 - 06:30 AM
Puzzleguy, I believe you start it via the 'Battle game'
Puzzleguy
06-14-13 - 03:25 AM
how do you start multiplayer again?
8bitNESPlayer
05-15-13 - 03:55 PM
DarthDub, it's because this game was ported for the Mega Drive later. The Mega Drive version is a translation. Also, they are not the same. 5 players here and 4 players in the other version and more differences.
Varrio
05-07-13 - 10:38 AM
I love this game while netplay XD
SuperCrash64
04-24-13 - 04:17 PM
Actually. Mega bomberman Only has 4 players And is a basically A engilsh translation of this game. Where as the original Japan release this game right here has 5 players
domokun
04-20-13 - 10:30 AM
It doesnt recognize my keybord y???
iN008
04-16-13 - 12:48 PM
Yes they are the same, but they are for two different consoles :P
DarthDub
06-22-12 - 04:59 PM
Mega Bomberman and this game are exactly the same.
bellota_pe
05-30-12 - 01:57 AM
I just LOVE this gameee
grunts
04-05-12 - 07:43 PM
aa
grunts
04-05-12 - 07:42 PM
aaaaaaaaaaaa