Play Monopoly (NES) - Online Rom | Nintendo NES
Play Monopoly online with Nintendo NES browser emulation for free! Monopoly (NES) game rom is loaded with features in our flash, java and rgr plugin emulators. Nothing to configure, we've done it for you!
Videos of Monopoly Gameplay
Monopoly Game Description
This time, a Monopoly game on your computer, as good as it knows to be in your reality. Every move of yours can be in 3D animation, or off if you don't want to see animations. There can be up to 6 players at once, and it can be played over the Internet. Music is in midi format, and the sound quality is at the wav format. Roll, spin, and don't miss to give us a grin.
Monopoly Reviews
Overall 8.1 Graphics 8 Sound 10 Addictive 10 Depth 6 Difficulty 3
Monopoly Highscores
natethefox
1. 99,999
TimeTrial:
00:28:27
05-11-15 09:34 PM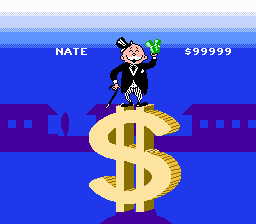 kramer4077
2. 11,034
TimeTrial:
01:01:16
12-17-13 03:01 PM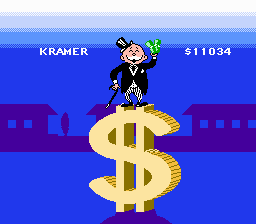 Monopoly Guides and Walkthroughs
There are no submitted Guides for this Game
Game Characters in Monopoly
Comments for Monopoly
Vizzed77
03-25-17 - 08:14 AM
Mednafen Emulator is not working. Any suggestions??
Vizzed77
12-22-15 - 02:52 PM
I am having issues getting the game to play. I keep seeing this: 404 - File or directory not found. The resource you are looking for might have been removed, had its name changed, or is temporarily unavailable.
eggmanfat120
10-19-14 - 06:12 PM
I want to get this.
Ferdinand
10-11-14 - 04:44 AM
Used to rent this from time to time.
Supermatt6534
06-03-14 - 12:36 AM
it's been a while since I played monopoly
MikaelAzarian
08-02-13 - 06:35 PM
Why cant i play this?
SuperSonic780
07-09-13 - 06:36 AM
a TAS almost always uses save-states
SuperCrash64
07-08-13 - 11:25 AM
i know, but tas techinally are tool assisted speedruns, so who knows if that guy used savestates or not
SuperSonic780
07-08-13 - 10:55 AM
there was a person who made a TAS of this game and finished it in half a minute (30 seconds)
SuperCrash64
04-07-13 - 09:24 AM
that is because this was not played all that much
Awegamer
03-30-13 - 09:20 AM
Holy crap no one has commented in a year! Watch someone else say that in 2014 about my comment o3o
123Cheese
08-13-11 - 08:48 PM
This game is fun. But how were they able to put in those voices....
Crown098
04-25-11 - 12:28 AM
what is all the controls for this game
masou
04-20-11 - 07:45 PM
hi every one
DJFrizz
03-23-11 - 03:51 PM
i like the music when u build a hotel
usrejh
12-08-10 - 08:58 PM
how in the heck do you start playing?
nikkibooks911
10-29-10 - 08:34 PM
hi
rainingxloli
09-17-10 - 04:49 PM
does this work on internet explorer 8..?
rainingxloli
09-17-10 - 04:48 PM
question..m new o.o
Texas_210_King
08-16-10 - 02:10 PM
hey
sumlilmexican
07-06-10 - 10:50 PM
anyone here
jboognast
04-18-10 - 10:59 AM
awsome
Dragonmaster 2.1
01-03-10 - 05:53 AM
this is great for a nes game.
Ashtonreed23
05-05-09 - 05:07 AM
I haven't played these games in forever. I just played pacman. Brings back memories.