Play The New Zealand Story (NES) - Online Rom | Nintendo NES
Play The New Zealand Story online with Nintendo NES browser emulation for free! The New Zealand Story (NES) game rom is loaded with features in our flash, java and rgr plugin emulators. Nothing to configure, we've done it for you!
The New Zealand Story Box Description
When Wally the Walrus kidnaps 20 of your your kiwi pals, you rush to the rescue. As Tiki the kiwi bird, that's not so easy - you can't fly and you wouldn't hurt a flea. But Wally's stashed your friends in dangerous spots all over New Zealand and it's up to you to save them. Beak up, Tiki! Just rely on your quick wit and fast footsies. And keep your bow and arrow on the draw, because every Kiwi Kraze creature you meet will try to do you in - from playful penguins to ornery octopi. Hurry up! Better find your birdie buddies in time. Wally's got himself a kiwi cookbook, and your friends are the main ingredient!
New Zealand Story, The (Nintendo NES) Screenshots
Videos of The New Zealand Story Gameplay
8bitNESPlayer
05-23-13 03:00 PM
00:16:36
Views: 670
5/5
New Zealand Story, The (NES / Nintendo)
There is currently no one playing this online
The New Zealand Story Game Description
One day, a kiwi tribe was having fun and games outside the zoo, only to be kidnapped by the evil-minded Leopard Seal, who plans to sell them at the black market. Fortunately, during the kidnapping process, Tiki, leader of the tribe, managed to escape the sack, and her job is to rescue Phee-Phee and the other kiwis scattered around New Zealand, and are held in cages in various locations that include Auckland, Rotorua, Waitomo Caves, Strait Cook, and Mt. Cook.

If Tiki doesn't rescue a kiwi in a limited amount of time, the devil will appear and try to kill her. When Tiki reaches the outskirts of each city, except Strait Cook, there is a boss waiting to meet Tiki, and kill her by using their own choice of weapons. Also making the rescue mission difficult are several nasties that attempt to throw their own weapons, like bombs and arrows, at her. To defeat these enemies, Tiki shoots at them using her crossbow and arrows. More often than not, when Tiki shoots at enemies, they will leave behind pieces of fruit that she can pick up for points. However, it is likely that Tiki may get other weapons or the letters E, X, T, E, N, and D. Collecting all these letters will result in an extra life, and as for the weapons, they include laser shots, bombs, and fireballs.

In some levels, a few areas are located further up than just left or right, and the only way that Tiki can go up is by snatching something off the enemy that gives her the ability to fly up. Other areas are underwater, and when Tiki goes underwater, her oxygen meter decreases, so she has to rise up to the surface again to restore her oxygen levels. Apart from her own weapons, Tiki is able to squirt water at enemies if she gets to the top of the water.



The New Zealand Story Reviews
There are no submitted reviews for this Game
The New Zealand Story Highscores
8bitNESPlayer
1. 9,999,900
TimeTrial:
01:53:59
07-25-14 07:30 PM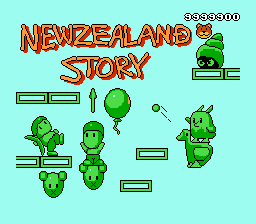 rcarter2
2. 1,751,200
TimeTrial:
03:59:05
10-21-13 06:00 PM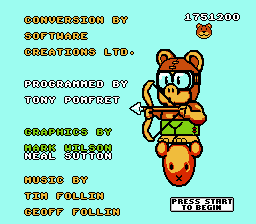 Not really 3 hours
The New Zealand Story Threads
There are no submitted threads for this Game
The New Zealand Story Guides and Walkthroughs
There are no submitted Guides for this Game
Users who own The New Zealand Story
Game Owner Name
Completeness
Condition
B
T
S
Play Online
Comments for The New Zealand Story
Retro_Gamer
06-08-12 - 03:37 PM
does anybody know how many warps are in 4-1??
ronisaw
03-14-12 - 03:19 AM
My life is forever improved with the discovery of this amazing game!!!
Godpork
01-11-12 - 09:17 AM
how much is pig allah?
123Cheese
11-05-11 - 01:31 PM
Hooray! I just....killed........a whale. How is that good?
123Cheese
11-05-11 - 01:30 PM
It maiks absalutely n0 senz
noobbazuka
10-23-11 - 08:30 AM
thnx
123Cheese
08-01-11 - 01:46 PM
Just in case nobody knows, to beat the first boss, wait for the whale to eat you, then shoot the crap out of him while dodging his spit.