Asterix and the Great Rescue (GEN) - Cheats & Codes | Sega Genesis
Asterix and the Great Rescue is an Action game developed by Core Design Ltd. and published by SEGA Enterprises Ltd. in 1993 for the Sega Genesis.
*
Level Passwords

Password Effect
I N S U L A 2
C O N D O R 3
V I E N N A 4
A V A L O N 5
D U L C I S
Asterix and the Great Rescue Box Description
Wham!!! Biff1!! Pow!!! Asterix is back in another highly exciting adventure. Yet again Asterix and his good friend Obelix are thrown into an amazing adventure, when they find out that Getafix and Dogmatix have been kidnapped by the Romans. Asterix and Obelix must defeat the Romans and bring their friends back home!
Videos of Asterix and the Great Rescue Gameplay
There are no submitted videos for this Game
Asterix and the Great Rescue Game Description
The game is based on the popular French comics series Asterix. It is 50 B.C., and the entire Gaul (today's France) is conquered by the Romans. Only one village still remains independent, thanks to the incredible powers of its two great warriors, Asterix and Obelix. In the game, they must first of all liberate the village Orvio and rescue their friend Dogmatix.

You can play as either Asterix or Obelix. You make your way through platform levels, fighting enemies by punching them, and jumping to access higher ares or to avoid falling down. There are also some items you can collect, such as bombs, with which you can overcome obstacles and advance in the game.
Asterix and the Great Rescue Reviews
There are no submitted reviews for this Game
Asterix and the Great Rescue Highscores
CorruptionSound
1. 177,635
TimeTrial:
00:51:51
06-13-14 02:51 PM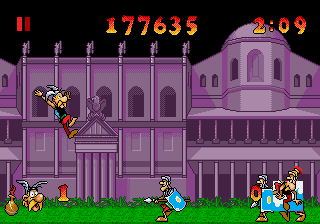 Asterix and the Great Rescue Threads
There are no submitted threads for this Game
Asterix and the Great Rescue Guides and Walkthroughs
There are no submitted Guides for this Game
Users who own Asterix and the Great Rescue
Comments for Asterix and the Great Rescue