Play Monopoly (SNES) - Online Rom | Super Nintendo
Play Monopoly online with Super Nintendo browser emulation for free! Monopoly (SNES) game rom is loaded with features in our flash, java and rgr plugin emulators. Nothing to configure, we've done it for you!
Videos of Monopoly Gameplay
There are no submitted videos for this Game
Monopoly Game Description
This time, a Monopoly game on your computer, as good as it knows to be in your reality. Every move of yours can be in 3D animation, or off if you don't want to see animations. There can be up to 6 players at once, and it can be played over the Internet. Music is in midi format, and the sound quality is at the wav format. Roll, spin, and don't miss to give us a grin.
Monopoly Reviews
There are no submitted reviews for this Game
Monopoly Highscores
182724
1. 65,000
TimeTrial:
00:00:00
05-25-15 03:01 PM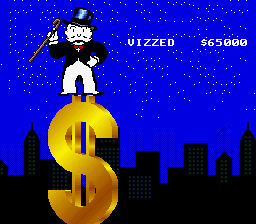 Monopoly Threads
There are no submitted threads for this Game
Monopoly Guides and Walkthroughs
There are no submitted Guides for this Game
Game Characters in Monopoly
Comments for Monopoly
Ferdinand
01-10-15 - 06:40 PM
Be the orange monopoly to win.
MysteryMan007
12-22-14 - 07:05 PM
Love Monopoly
SuperCrash64
07-08-13 - 12:40 PM
The 1st 2 screenshots are not the right game, I can tell screenshots in slot 1 and 2, are from monopoly 2 on the snes, not monopoly 1
gamer102285
04-03-12 - 11:13 AM
@agito, right shift
Agito Geist
01-06-12 - 01:54 AM
whats select on the key board?
Godpork
12-30-11 - 04:35 AM
porco dio
deerfart
07-27-11 - 02:50 AM
hey f u fat ass/.
stevie34224567
10-28-10 - 10:42 PM
yahooooooo
jboognast
04-18-10 - 12:23 PM
gary cant can blo me