Retro Game Room
Vizzed Board Forum

The Vizzed Retro Game Room offers 1000s of free professionally made games, all playable online on the website and is loaded with features. Some games require the Vizzed RGR Plugin while others require no downloads.

Top Genres: Platform, RPG, Sports, Puzzle/SIM, Action, Hacks, Arcade
Top Searches: Mario, Pokemon, Sonic, Zelda, Final Fantasy, Mega Man
Top Systems: NES, Super Nintendo, GBA, Genesis, N64, Atari 2600, GBC


Vizzed Board is a family friendly community and forum where users of all ages can discuss video games, entertainment or life in general. This 'cyber family' also has a lot of events and competitions that you can participate in.

Top Forums: General Chat, Video Games, News, Your Forum, Newbie
Top Pages: RGR Help, VCS, Friends List, Layout Editor, Photo Album
Top Features: RGR Plugin, Viz, Tour de Vizzed, Post Exp, Notifications

Latest Announcements
Click Here to Read All Announcements
Vizzed Minecraft Server Launching Friday at around 7 PM CST - 04-18-14 - 00:06 by Davideo7
The Vizzed Minecraft server that many of you have been waiting for will be launched on Friday, April 17th, at around 7 PM central time. The launch may be an hour early or an hour late, so the launch may be anywhere between 6 PM - 8 PM since we're still finalizing things with that server.
The server will basically involve everyone working together to build 'Vizzed Ville' in Minecraft. Users will be able to purchase lots and building materials using Viz. Anyone can join in once it's launched, all you need is a copy of the PC version of Minecraft. If you don't have a copy, you can purchase one online or in stores (like Walmart or Target) for only $26.95.
I'll be making a separate announcement and thread once it's ready to launch with full details regarding the rules and purpose of the server. I'll also be live streaming it on
my Twitch Channel
so anyone who doesn't have a way to join us can still somewhat experience it.
If you have any questions or feedback, please ask in this thread:
http://www.vizzed.com/boards/thread.php?id=75118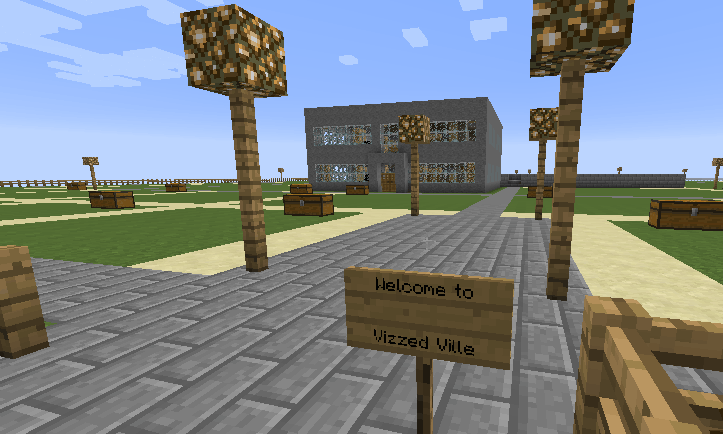 Vizzed is Back + Like us on Facebook - 04-17-14 - 10:11 by Davideo7

Vizzed was down because of issues my host was experiencing so it was completely out of my control. Sorry for the inconvenience and thanks for everyone's patience.

If you want to stay up to date when Vizzed goes down next time or if you want to simply stay in contact with everyone, be sure to 'Like' Vizzed on Facebook here:

https://www.facebook.com/pages/Vizzed/120725987944823

Donate your Games to Vizzed = Earn Viz for Special Features - 04-12-14 - 13:53 by Davideo7

My quest continues to obtaining physical copies of games for the Retro Game Room. I have a lot already but still a ton to go. Systems you could donate games for include Super Nintendo, Nintendo, any of the Game Boys, Nintendo 64, Genesis, Playstation, Nintendo DS, etc (basically anything).

Here's a few examples of items that you might want to earn Viz for:

15,000 Viz = Game Accelerator - Makes games download faster (for most people)

25,000 Viz = V-Machine item - Allows you to play any game without paying Viz (doesn't include cd games)

50,000 Viz = Playstation item - Allows you to play 400+ different Playstation games

Any game that is donated that I already own (or isn't retro) will be sold and all the money made from sold games will go toward expanding Vizzed. It costs a lot of money to keep this site up and I know a lot of users want to help out but don't have money to donate so this is a great opportunity, especially since a lot of you probably have games lying around that you don't plan to play anymore and may even need to make room for new games.

Respond to the following thread with a list of games you're willing to donate and I'll tell you how much Viz I'd give you for the games and I'll PM you the address to send the games to. The following thread also has more information on this offer.

http://www.vizzed.com/boards/thread.php?id=58552

Understand the technology involved in creating games at New York Film Academy. Join one of the top Video Game Design Schools to earn your AA, BFA & MFA Degree. Click here to find out what the students have to say about NYFA game design school.