Play RBI Baseball 2014 (R.B.I. Baseball Hack) - Online Rom | Nintendo NES
Play RBI Baseball 2014 online with Nintendo NES browser emulation for free! RBI Baseball 2014 is a rom hack of R.B.I. Baseball (NES). Play it with our flash, java and rgr plugin emulators. Nothing to configure, we've done it for you!
RBI Baseball 2014 Game Description
The original had 10...this one has 30. All the Major League teams are represented in this modern update of an old classic from 1987.
RBI Baseball 2014 (Nintendo NES) Screenshots
Videos of RBI Baseball 2014 Gameplay
There are no submitted videos for this Game
There is currently no one playing this online
RBI Baseball 2014 Reviews
Overall 8.3 Graphics 5 Sound 5 Addictive 6 Story 2 Depth 4 Difficulty 6
6.6
NES Classic Baseball Game
Ghostbear1111
RBI Baseball is a classic NES game, known by the cover art as one of the first well-developed sports...
Graphics
5
Sound
5
Addictive
6
Story
2
Depth
4
Difficulty
6
Review Rating:
4.5/5
Submitted: 07-22-16
Review Replies: 1
RBI Baseball 2014 Highscores
nuggula1
1. 16
TimeTrial:
00:00:00
04-11-18 06:03 AM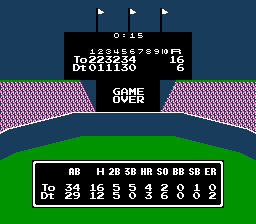 1st.Try
RBI Baseball 2014 Threads
There are no submitted threads for this Game
RBI Baseball 2014 Guides and Walkthroughs
There are no submitted Guides for this Game
Users who own RBI Baseball 2014
There are no users who own this Game
Comments for RBI Baseball 2014
ralphie007
08-08-16 - 05:08 PM
Yep
Ferdinand
04-10-15 - 01:44 AM
After all these years finally someone made this.