Play Fatal Fury Special (SCD) - Online Rom | Sega CD
Play Fatal Fury Special online with Sega CD browser emulation for free! Fatal Fury Special (SCD) game rom is loaded with features in our flash, java and rgr plugin emulators. Nothing to configure, we've done it for you!
Fatal Fury Special Box Description
The GRANDMOTHER of all battles! 15 of the FATAL FURY series' top stars gather in the match of the millenium! Use the resurrected Geese Howard and Wolfgang Krauser in a dazzling arena! All you have ever wanted in a fighting game is here in FATAL FURY SPECIAL!
Fatal Fury Special (Sega CD) Screenshots
Videos of Fatal Fury Special Gameplay
There are no submitted videos for this Game
There is currently no one playing this online
Fatal Fury Special Featured Review
Fatal Fury Special Review by:
jlh
- 7.5/10
Fatal Fury special, SEGA CD
Fatal Fury Special edition on the SEGA cd system is kind of a let down compared to the other Fatal Fury series. It does however incorporate a different battle field, rather then just a typical back and forth, this game lets you move your character up and down as well as diagonal to battle your enemy. Pretty much the same controls as any other fighting game, holding back blocks enemy attacks, pressing back twice makes your character dash back ( no dash forward ). Although personally I found that it is hard to figure out special attacks.

This game boasts six levels of difficulty, beginner,easy,normal,hard,expert, and mvs( arcade difficulty). With sixteen characters to choose from, each with their own style is one of the few strong points of the game. Here is a short list of fighters to choose from.

Terry Bogard
Andy Bogard
Joe Higashi
Big Bear
Juei Yamada
Billy Cane
Duck KING
Ryu Sakazaki
Ma Sharanui
Wolfgang Keiser
and many more!

Overall: 7.5 ( best thing going for this game is the graphics and a good selection of fighters to choose from).

Graphics: 8 ( really the highest score I gave the game in all the categories, some boards are better then others providing animation in the backgrounds, well detailed and real nice colours).

Sound: 7 ( okay music and some voice effects but nothing special)

Addictiveness: 6

Story: 7 ( It is a fighting game, the end).

Depth: 7 ( really with sixteen characters the score should be higher but difficulty in using the specials are a real let down).

Difficulty: 9 ( okay usually when I rate a game this high it is a good thing but with this game a 9 means bad, sometimes slow action and difficulty when trying to use the specials sometimes results in jumping or rolling across the board).

Reviewers note: I made this review short and sweet because really it is nothing to brag about, their are better versions out there to play.






Graphics
8
Sound
7
Addictive
6
Depth
7
Story
7
Difficulty
9
Fatal Fury Special Game Description
Fatal Fury Special is an improved version of SNK's 2D one-on-one fighter Fatal Fury 2. It's a conversion of the 1993 arcade game of the same name. The objective is still to win the tournament by defeating all other fighters including end boss Wolfgang Krauser. Fatal Fury Special features a fairly large selection of fighters that includes:

The eight regular fighters from Fatal Fury 2: Terry Bogard, Andy Bogard, Joe Higashi, Kim Kaphwan, Jubei Yamada, Cheng Sinzan, Mai Shiranui and Big Bear.
The four bosses from Fatal Fury 2: Billy Kane, Axel Hawk, Lawrence Blood and Wolfgang Krauser (this time they're all immediately playable).
Three characters returning from the first Fatal Fury: Duck King, Tung Fu Rue and Geese Howard (the end boss from Fatal Fury).

Other improvements include:

A new Count Down mode (defeat as many opponents as possible in 3 minutes).
Extra color schemes for every character.
New & improved background graphics.
Dolby Surround Sound support.

Fatal Fury Special still features the series' trademark pseudo-3D movement along two planes.
Fatal Fury Special Reviews
Overall 8.1 Graphics 8 Sound 7 Addictive 6 Story 7 Depth 7 Difficulty 9
7.5
Fatal Fury special, SEGA CD
jlh
Fatal Fury Special edition on the SEGA cd system is kind of a let down compared to the other Fatal F...
Graphics
8
Sound
7
Addictive
6
Story
7
Depth
7
Difficulty
9
Review Rating:
4/5
Submitted: 11-18-12
Updated: 11-18-12
Review Replies: 0
Fatal Fury Special Highscores
G@mehe@d
1. 28,500
TimeTrial:
00:05:54
11-28-12 08:58 PM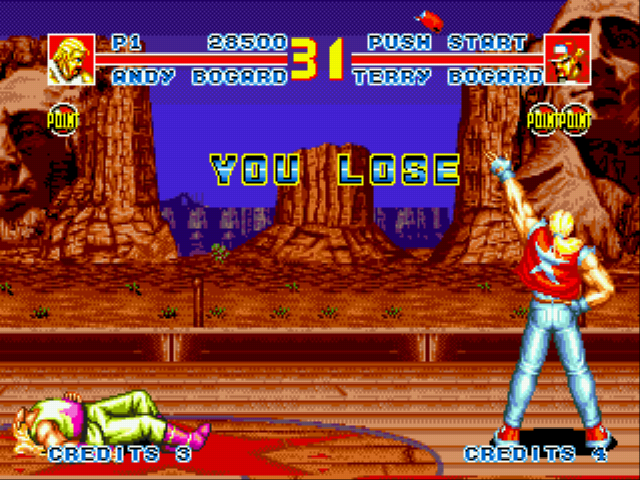 Fatal Fury Special Cheat Codes
Fight Ryo Sakazaki

In the one player arcade mode, beat every opponent without losing any rounds in any fight. After you defeat Wolfgang Krauser, the screen will display the message \"the challenger\" and you\'ll get to fight Ryo Sakazaki on a secret stage.
Fatal Fury Special Threads
There are no submitted threads for this Game
Fatal Fury Special Guides and Walkthroughs
There are no submitted Guides for this Game
Users who own Fatal Fury Special
There are no users who own this Game
Comments for Fatal Fury Special
supersonicracin..
05-04-14 - 12:47 PM
Gah, the LAG! Plus the load times are horrible!
Bluey5
12-01-12 - 04:15 PM
I've had my fun with this game. It gets pretty boring to me and the fighting is way too slow for my tastes. It is an OK game. Maybe the arcade mame version IS better.