Play Pokemon Kohaku Adventures (Pokemon Fire Red Hack) - Online Rom | Game Boy Advance
Play Pokemon Kohaku Adventures online with Game Boy Advance browser emulation for free! Pokemon Kohaku Adventures is a rom hack of Pokemon Fire Red (GBA). Play it with our flash, java and rgr plugin emulators. Nothing to configure, we've done it for you!
Pokemon Kohaku Adventures Game Description
New Starters
All New Maps
Altered Text
Custom Title Screen
Custom tileset
Custom sprites
Custom credits
Pokemon Kohaku Adventures (Game Boy Advance) Screenshots
X
Pokemon Kohaku Adventures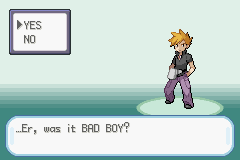 Videos of Pokemon Kohaku Adventures Gameplay
There are no submitted videos for this Game
Pokemon Kohaku Adventures Reviews
Overall 7.2 Graphics 1 Sound 1 Addictive 1 Story 1 Depth 1 Difficulty 1
Pokemon Kohaku Adventures Highscores
There are no submitted highscores for this Game
Pokemon Kohaku Adventures Threads
Pokemon Kohaku Adventures Guides and Walkthroughs
There are no submitted Guides for this Game
Users who own Pokemon Kohaku Adventures
There are no users who own this Game
Comments for Pokemon Kohaku Adventures
miss.rain
02-01-16 - 11:32 AM
um glitch? just started picked charmander, he fainted and somehow i ended up in blane's gym??????
Mega Lizardon
01-16-15 - 09:18 PM
does abra evolve into alakazam without trading in this game??
gamr129
08-11-14 - 07:02 AM
dont choose abra as your starter. it only know teleport making it really hard to lvl
kenichi95
06-23-13 - 04:51 AM
I like what I played of the game it was well made and very creative
m_j_m94
04-28-13 - 09:17 PM
what r the starter pokemon ?
POKEMONLOVER159
03-12-13 - 05:42 PM
I THINK lugia is where you firt start
megaman70
06-27-12 - 01:07 PM
hi
jass2zhang22
06-19-12 - 06:57 PM
I got a pikachu!
jass2zhang22
06-19-12 - 06:30 PM
I JOND
reco13
06-18-12 - 09:38 PM
hello
kenneth_8000
06-12-12 - 12:33 AM
is there a problem here in this version? or its good
GeneReyva
06-10-12 - 09:33 AM
start playing, accidentally go into the grass, shiny eevee but no balls :(
Terrance
06-08-12 - 02:56 PM
hello?
denissa
06-05-12 - 06:33 PM
anyone on?
kunzangpalden
06-03-12 - 02:25 AM
what are te starters
blonieblue28
06-02-12 - 11:47 AM
what starters in this game?
DylanXX2
05-28-12 - 03:58 PM
i have abra as starter do nat have abra as starter he sucks he can only teleport
jayrome23
05-21-12 - 08:54 PM
where are the switches in lt surge gym
seegerdarren
05-21-12 - 11:35 AM
is this a good rom
ash12yo12
05-18-12 - 02:35 PM
in da start did anyone notice that nidenorino's takel did not effect gangar right?
fireflower
05-18-12 - 12:02 PM
i lost and ended up at a pedophiles house named blaine
royalblu
05-06-12 - 06:22 PM
HEY LISTEN TO ME CAN YOU BUY ANY MASTER BALLS!
Daniel126
05-01-12 - 11:13 AM
doghunter it me
Daniel126
05-01-12 - 11:12 AM
is this game any good
travis45
05-01-12 - 01:31 AM
does this game has good glitches in it