Not bad, think i might lead a hand to help out? i could fusion the pokemon... and i do it for fre though, although it will cost 100 viz per, but viz are for you, i got no use for those viz.

Cloyster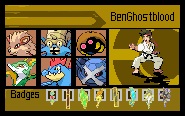 Affected by 'Laziness'
Position: Trusted
Since: 05-06-10
From: USA
Last Post: 7 days
Last Active: 22 min.