What would've been the Kokiri's population's response to Link being blue or red? While them being forest people in green tunics!
REMEMBER
, in
Ocarina of Time
, the Kokiri ridiculed Link because he didn't have a
fairy
, let alone him being the same height and color to everyone in there.
Although, in every
Legend of Zelda
game, Link either starts out with a green tunic, or receives them briefly later on the game (ex. Spirit Tracks). I think it's because it's a 'symbol' of Link, the guy in green saving the princess and the land of Hyrule (and some other lands too).
Or at least, that's my opinion.

TO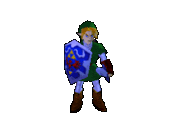 TO