This game, is one of my childhood time-played game. To me, this game is way better than 3ds game and I loved this so much. The game is really hard to control on keyboard and most likely to crush by my mom's computer but I love it so much, the music is really good, deep sound of many sounds that cause the player to feel like they are really inside of the game.
The story-line is very hard and puzzle but it really good, best than any of story-line that I ever played. Many events going on and it all just happen so quickly. Even as for the addictive, I played this almost every time after I beat it in my N64. The depth of the game is way too deep, so many things you can do by swim, fight, travel, and all things that is just too awesome to do!
As for the difficulty, I rated it 7 due to the controls and it need a very deep details of your mind to know where or what to do after one of the event. As for overall, I rate it 10 because this is awesome game ever!

Shellder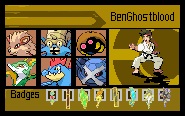 Affected by 'Laziness'
Position: Trusted
Since: 05-06-10
From: USA
Last Post: 16 days
Last Active: 1 day