10 questions and 1 week too anser go ahead see if you can win.I will post the ansers in a week
1.what is the name of the girl Mario rescues on the game Donkey Kong (atari26 nes and gameboy).
2.Mario's last name is ____
3.Daisy fisrt appeirs on what game
4.The brown mushroom enemys are called ___
5.Before Mario was a plumber he was a _________
6.Mario's favorite food is ______
7.Mario's archenemy is named ____
8.Mario comes from what country
9.One day while plumbing Mario finds himself in what kingdom
10.Mario has a second archenemy, what's his name
Be sure to put the number
before
the anser.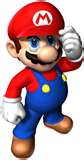 Image upload: 84x160 totaling 4 KB's.