I would love to be a Zora, as vizwiz123 said, the ability to swim really fast, underwater, and can still preform the abilities of a human? That's awesome. Plus they lay eggs, more effective than pregnancy.

Phantom
King of all Magikarps
VIZZEDS GREATEST ZELDA FAN.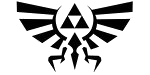 Affected by 'Carpal Tunnel Syndrome'

Position: Local
Role: Article Writer

Since: 02-24-10
From: Sydney, Nova Scotia
Last Post: 1 hour
Last Active: 47 min.