Play Super Mario Universe Online SNES Rom Hack of Super Mario World - Super Mario Universe (SNES)
Notice
Game not playable for following reason:
Removed by Nintendo of America Inc.
You can load your own games manually here:
PLAY YOUR GAMES
You can find more games on our affiliated site here::
PLAY.ROM.ONLINE
Games with similar genre, developer, etc
Super Mario Universe Screenshots
Videos of Super Mario Universe Gameplay
There are no submitted videos for this Game
Super Mario Universe Reviews
Overall 9 Graphics 8 Sound 10 Addictive 10 Story 7 Depth 8 Difficulty 10
9.5
Super Mario:Universe
kawe08
Well Its a good game so much levels and some levels are from classic games like the second castle it...
Graphics
8
Sound
10
Addictive
10
Story
7
Depth
8
Difficulty
10
Review Rating:
3/5
Submitted: 11-29-14
Review Replies: 1
Super Mario Universe Highscores
asmd69
1. 3,585,400
TimeTrial:
00:00:00
05-06-14 03:10 AM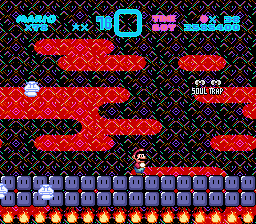 All Exits Beaten!
Super Mario Universe Threads
There are no submitted threads for this Game
Super Mario Universe Guides and Walkthroughs
There are no submitted Guides for this Game
Users who own Super Mario Universe
There are no users who own this Game
Game Characters in Super Mario Universe
Comments for Super Mario Universe
kawe08
11-29-14 - 01:30 PM
to make first level use save state
Hmph12
03-22-14 - 08:51 AM
First stage so friggin` hard
supermegablox
04-28-12 - 01:50 AM
first weegee didnt claim it :P
joeyandyoshi111
08-03-11 - 10:04 AM
weege?
aidbla3
12-19-10 - 07:44 PM
yay!
mariofan123
04-27-10 - 09:44 PM
I'm playing the ninji sage.
Siuper
01-30-10 - 10:06 AM
lol
Weegee
01-23-10 - 04:23 PM
I like this hack!