Play Cave Noire Online GB Game Rom - Game Boy Emulation on Cave Noire (GB)
Play Cave Noire online with Game Boy browser emulation for free! Cave Noire (GB) game rom is loaded with features in our flash, java and rgr plugin emulators. Nothing to configure, we've done it for you!
Cave Noire Screenshots
madison
08-15-12 09:49 PM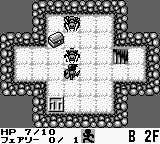 3/5
Edit Screenshot
Gameplay 2
Videos of Cave Noire Gameplay
There are no submitted videos for this Game
Cave Noire Game Description
Cave Noire is a Role-Playing game, published by Konami, which was released in Japan in 1991.
Cave Noire Reviews
There are no submitted reviews for this Game
Cave Noire Highscores
There are no submitted highscores for this Game
Cave Noire Threads
There are no submitted threads for this Game
Cave Noire Guides and Walkthroughs
There are no submitted Guides for this Game
Users who own Cave Noire
There are no users who own this Game
Comments for Cave Noire
There are no submitted comments for this Game