Scrabble (PSX) - Playstation
Scrabble is a Strategy game developed by Runecraft, Ltd. and published by Hasbro Interactive, Inc. in 1999 for the Playstation.
Videos of Scrabble Gameplay
There are no submitted videos for this Game
Scrabble Featured Review
Scrabble for Playstation
Thanks for reading my review of Scrabble for PlayStation! Happy gaming!! --kramer4077

Overall: 7--Word games sometimes convert well to video games and sometimes they don't. Well, Scrabble seems to be one that is fairly good as a video game. The game gives you an opponent, prepares all the tiles, and does all the scoring for you! Some of these tasks seem difficult when playing the real life game, especially the scoring...or finding an opponent to play Scrabble with you...mostly the scoring! It might take some of the fun out of it for those of you who like to add up the score. But then again you're probably a "language person" not a "math person" if you're playing Scrabble!

Graphics: 7--Graphics are pretty standard. There are letter tiles to put on the game board. At times it is hard to read what has been played on the board or see what the multipliers on the board are, but there is a zoom in button to make things much easier to read. The letter rack is very easy to see and it's simple to move the letters around the board.

Sound: 7--Standard sounds that aren't too annoying!

Addictiveness: 7--I do love word games, so I could play this over and over. There are probably more adventure-seeking gamers on this website, so it might not draw your interest for more than one or two games. This game would certainly be more fun playing with a human opponent because it would make for a more competitive aspect. Beating the computer is not as much fun, but you do get a pretend trophy at the end, so that's pretty nice!

Story: N/A There is no story in Scrabble. Although, I suppose you could write one in words on the game board...now that would make a cool video game!

Depth: 7--It took me about an hour to play a full game, so it definitely offers enough to keep you busy for a long time. If you have never played Scrabble before it could take you even longer to get the hang of it. Many people have tried the game Words With Friends, which is a take on Scrabble. If you have played that game, then Scrabble will be easy for you! One difference from Words With Friends is that in this Scrabble game if you just want to "guess" a word that you're not sure is a real word, it will cost you a turn. I ended up wanting to "guess" words like I do in Words With Friends and it ended my turn after it told me the word didn't exist. It seemed when I played real Scrabble that there was no turn-ending policy for guessing a wrong word. You simply removed your tiles and put down a different word that could be found in a dictionary. But then again it has been a long time since I've played Scrabble in real life...

Difficulty: 7--The computer opponent that I played was pretty easy to beat. This game could be extremely difficult depending on if you play against another person or if you put the computer opponent on a more difficult level. If you have never played Scrabble, you would need to read the rules so it might be more difficult for you to play it. I enjoy the challenge of saving the higher scoring letters like Q or Z until I can put them on a multiplier square. It's not always possible though; sometimes you just want to unload those tough letters to make room for some easier letters on your letter rack.
Graphics
7
Sound
7
Addictive
7
Depth
7
Difficulty
7
Scrabble Game Description
Play the classic board game against the computer or over the internet with the DOS version.
Scrabble Reviews
Overall 8.3 Graphics 7 Sound 7 Addictive 7 Depth 7 Difficulty 7
7
Scrabble for Playstation
kramer4077
Thanks for reading my review of Scrabble for PlayStation! Happy gaming!! --kramer4077 Overall...
Graphics
7
Sound
7
Addictive
7
Depth
7
Difficulty
7
Review Rating:
4.7/5
Submitted: 08-14-13
Review Replies: 1
Scrabble Highscores
182724
1. 486
TimeTrial:
00:32:22
07-23-15 10:31 PM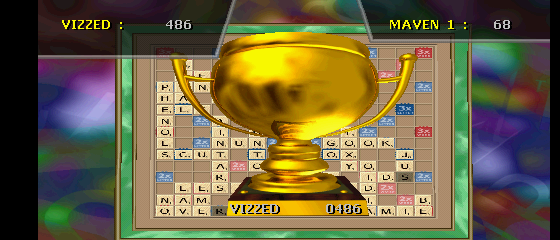 Scrabble Threads
There are no submitted threads for this Game
Scrabble Guides and Walkthroughs
There are no submitted Guides for this Game
Comments for Scrabble
wormelytyrese
12-21-14 - 12:10 AM
I think this game's one of the few PS games to have a short download time.
MysteryMan007
12-12-14 - 11:20 PM
I can't believe I found this game! Yes!
kramer4077
08-14-13 - 09:21 PM
This is a fun game!