MLB 2003 (PSX) Game - Playstation MLB 2003 (PSX)
MLB 2003 is a Baseball game published by Sony Computer Entertainment in 2002 for the Playstation.
Videos of MLB 2003 Gameplay
There are no submitted videos for this Game
MLB 2003 Reviews
Overall 9.7 Graphics 10 Sound 10 Addictive 10 Story 5 Depth 10 Difficulty 7
9.6
Best Baseball Game Ever
tornadocam
Have you already got baseball fever or are you disappointed your team did not do good this year. Wel...
Graphics
10
Sound
10
Addictive
10
Story
5
Depth
10
Difficulty
7
Review Rating:
5/5
Submitted: 11-11-15
Review Replies: 1
MLB 2003 Highscores
nuggula1
1. 32
TimeTrial:
00:00:00
10-28-20 10:37 AM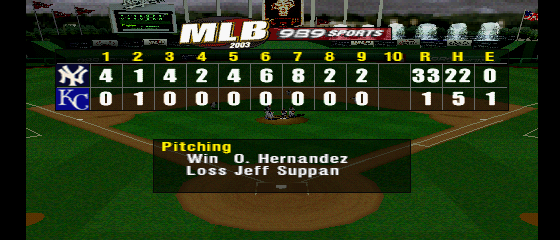 StepItUpNuggy
MLB 2003 Threads
There are no submitted threads for this Game
MLB 2003 Guides and Walkthroughs
There are no submitted Guides for this Game
Users who own MLB 2003
Game Owner Name
Completeness
Condition
B
T
S
Play Online
Comments for MLB 2003
There are no submitted comments for this Game