Play Faxanadu (NES) - Videos | Nintendo NES
Play Faxanadu online with Nintendo NES browser emulation for free! Faxanadu (NES) game rom is loaded with features in our flash, java and rgr plugin emulators. Nothing to configure, we've done it for you!
Order: Newest - Oldest - Best - Worst - Longest - Shortest
Vanelan
02-13-16 05:24 PM
06:13:30
Views: 26
5/5
Faxanadu (NES / Nintendo) - Vizzed.com GamePlay - Playthru
Jordanv78
01-29-16 05:24 PM
00:49:09
Views: 4,353
5/5
<< Now Playing
rcarter2
11-23-13 12:34 PM
02:05:40
Views: 132
5/5
Faxanadu (NES / Nintendo) Playthrough
Faxanadu Game Description
This 2D platformer has elements of role-playing and adventure in addition to side-scrolling action.The story is a classic one of good versus evil. Disaster strikes the once peaceful Elf town of Eolis. The sky rains meteorites upon the World Tree - wild animals and evil monsters terrorize the citizens - the water supply from the wells is dwindling - plants are withering - people are dying. Only you can restore peace to the land by conquering the Evil One, who lives in the Evil Place.There are many places you must visit during your quest including the medieval town, where you begin, country villages, fortresses, caves, and gloomy bogs - each with its own ambiance and musical score. You will be talking with the villagers, collecting gold to buy weapons, armor and other objects, jumping over obstacles and using items. Attack zombies, dwarves, giant snakes, wyverns, evil gnomes, or one-eyed one-footed things with a large collection of swords and daggers or zap them with a magic spell. As areas are completed by defeating enemies, your character rises up in "levels" and achieves a new "rank" which is tied directly to the restore password (called a "mantra" in the game). The higher your "rank", the more gold you start out with. Saving a game can only be done in a shrine or temple with a priest. This is also where you are transported when you restart the game - or if you die.

Faxanadu Reviews
Overall 8 Graphics 7 Sound 6 Addictive 5 Story 7 Depth 7 Difficulty 6
7
Like Zelda II -but stranger
endings
Faxanadu. What is that? Its a side-scrolling, action-rpg. You visit towns, equip weapons, armor and ...
Graphics
7
Sound
6
Addictive
5
Story
7
Depth
7
Difficulty
6
Review Rating:
5/5
Submitted: 10-26-14
Review Replies: 1
Faxanadu Highscores
rcarter2
1. 65,535
TimeTrial:
00:00:00
06-26-11 10:02 PM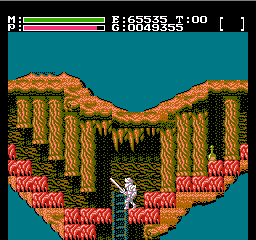 Doesn't go higher :(
Faxanadu Guides and Walkthroughs
Guide / Walkthrough
Creator
Date
Comments for Faxanadu
Hunter33
04-19-20 - 02:10 AM
please make a hack or something lol of this game. like alot of these systems.
Sword Legion
12-06-14 - 08:23 PM
One of the few Action RPG's using a sidescrolling system. I wish that there were more like it. And that use this earthy, Nordic graphic style as well.
Hunter33
01-29-14 - 09:31 AM
Good RPG where you have to save the world by getting the fountain to flow with water and go through many dungons defeating bosses for key items can you save the Planet?!
Jordanv78
12-26-12 - 06:13 PM
Good game though and pretty different as far as adventure/rpg's go.
Jordanv78
12-26-12 - 06:02 PM
This game is NOT very hard. Especially if you are used to NES difficulty. It has some challenging moments but it's a pretty short game by Adventure/RPG standards
Bizzgeburt
12-29-11 - 07:51 PM
games ok, a bit hard :D
krystar
04-05-11 - 07:10 PM
what kind of controlers you people use for these games
zyblorg
03-22-11 - 01:08 AM
So who else came here because of Radio Free Nintendo?
loveretrogames
03-16-11 - 03:42 AM
Watch the review of Faxanadu by Retrogamer3 at this link: http://www.youtube.com/watch?v=R9JZODw4dAE
loveretrogames
03-16-11 - 03:40 AM
Watch the review of Faxanadu by Retrogamer3 at this link: http://www.youtube.com/watch?v=R9JZODw4dAE
daníel2
01-09-11 - 03:05 PM
wooo after all these years I have finally beaten this game.
Danielquincey
01-02-11 - 11:09 PM
how do you use magic or your dagger ?? not working on me keyboard. anyone know
Aradace
08-23-10 - 03:16 PM
why cant I select the continue option? >.>
maceikobrandon
05-07-10 - 11:52 PM
why can't I get my keyboard to work on any nes games? I already beat Super Metroid with the keyboard, but I can't play nintendo games?
maceikobrandon
05-07-10 - 09:48 PM
I remember playing this when I was younger and I got stuck at some point...and I have wanted to beat it ever since. Now I get that chance!!!
shizureshimasu
03-11-10 - 04:35 AM
This game is awesome, its a classic RPG game, where you can buy spells, swords, armor and etc, going through fight wierd looking creatures trying to save your home!