Play Toki (AL) - Online Rom | Atari Lynx
Play Toki online with Atari Lynx browser emulation for free! Toki (AL) game rom is loaded with features in our flash, java and rgr plugin emulators. Nothing to configure, we've done it for you!
Videos of Toki Gameplay
There are no submitted videos for this Game
Toki Game Description
The hero of the game is a young jungle-man named Toki. One day the evil wizard Dr. Stark kidnaps his girlfriend Wanda. When Toki tries to save her, he is turned into a monkey! Now Toki has to find Dr. Stark in his palace, to rescue Wanda, and to become a human being again!It is a platform game with a lot of various levels: jungle, underwater, volcanic caves, on the ice... Toki's only weapons are spitting on the enemies or jumping on them and crashing them. There are many possibilities to upgrade his spitting "weapon"; for example, if he finds an upgrade, he can spit fireballs. This game is ported from an older arcade version.
Toki Reviews
Overall 6.4 Graphics 8 Sound 7 Addictive 9 Story 8 Depth 8 Difficulty 9
8.9
Toki Atari Lynx
GenesisJunkie
Toki is a shoot em up published in North America by Fabtek. Toki was a popula...
Graphics
8
Sound
7
Addictive
9
Story
8
Depth
8
Difficulty
9
Review Rating:
2/5
Submitted: 03-21-13
Review Replies: 1
Toki Highscores
CorruptionSound
1. 97,050
TimeTrial:
00:26:11
04-20-13 07:38 AM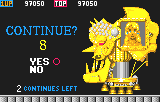 iN008
2. 51,100
TimeTrial:
00:32:35
04-01-13 11:01 AM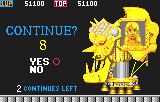 Moo D:
earthwarrior
3. 19,400
TimeTrial:
00:00:59
03-24-13 01:31 PM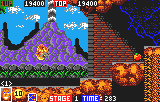 Toki Threads
There are no submitted threads for this Game
Toki Guides and Walkthroughs
There are no submitted Guides for this Game
Users who own Toki
There are no users who own this Game
Comments for Toki
There are no submitted comments for this Game