Play Star Parodier Online TGCD Game Rom - Turbo Grafx CD Emulation - Playable on Star Parodier (TGCD)
Play Star Parodier online with Turbo Grafx CD browser emulation for free! Star Parodier (TGCD) game rom is loaded with features in our flash, java and rgr plugin emulators. Nothing to configure, we've done it for you!
Videos of Star Parodier Gameplay
Pringur0
09-02-15 05:54 PM
00:00:53
Views: 57
4.8/5
Area 1 theme
There is currently no one playing this online
Star Parodier Reviews
Overall 9.1 Graphics 8 Sound 9 Addictive 10 Depth 7 Difficulty 8
9.2
Spaceship? More like Mothership
thejunkcan
Even if I got to play this game 2 times for a long time, this is one heck of a good shooter. I mean,...
Graphics
8
Sound
9
Addictive
10
Depth
7
Difficulty
8
Review Rating:
4/5
Submitted: 02-07-21
Review Replies: 0
Star Parodier Highscores
dragonslayer444
1. 1,050,720
TimeTrial:
01:28:23
11-17-13 09:57 AM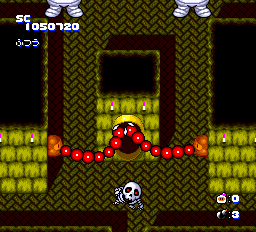 Star Parodier Threads
There are no submitted threads for this Game
Star Parodier Guides and Walkthroughs
There are no submitted Guides for this Game
Users who own Star Parodier
There are no users who own this Game
Comments for Star Parodier
Hafflockman
02-26-21 - 12:29 PM
bober man
misssweetiepie10
04-27-16 - 08:52 AM
very cute design and of course bomberman :D and too many viz points o_0 what's going on ?
MusicalMinerdude
04-23-16 - 02:22 PM
Based off of Star Soldier. It's a fantastic game, and while the Fantasy Star Soldier version wasn't released officially, we still got good ol' SP released on Virtual Console here in America, as well as Europe.
Spicy
11-19-14 - 03:11 PM
Guys, this isn't really a bomberman spin-off. It's a NEC/Hudson soft based shooter.
sonicbros
06-07-14 - 07:17 AM
A space shooter with Bomberman,it's pretty good
Jordanv78
06-03-14 - 01:52 PM
This game is AMAZING!
GamerPony2013
11-21-13 - 06:20 PM
Why so many vizzed?
dragonslayer444
11-17-13 - 08:22 AM
It look and play similar to pop and twinbee witch is a great game
Davideo7
10-01-13 - 01:43 PM
This is the weirdest Bomberman spinoff I've ever seen.