Play Smash T.V. (rev 8.00) (MAME) - Online Rom | Arcade
Play Smash T.V. (rev 8.00) online with Arcade browser emulation for free! Smash T.V. (rev 8.00) (MAME) game rom is loaded with features in our flash, java and rgr plugin emulators. Nothing to configure, we've done it for you!
Videos of Smash T.V. (rev 8.00) Gameplay
NoxHardigan
03-19-14 07:18 PM
00:01:07
Views: 113
4/5
Smash T.V. Arcade ending credits(rev 8.00) (Arcade / MAME)
There is currently no one playing this online
Smash T.V. (rev 8.00) Featured Review
I Buy this game for a dollar or quarter
Alright this is smash Tv . I Am surprised there was no reviews of this instant classic Back in The Day this game probably Made Williams and The Arcade Boat loads of Money and leaving tears of Joy all the way to the bank lol. First off I will give some tips that I think would be helpful.
Ok First tip would Be You see those question marks on the map of each level after you get through the first part of each studio Those Are Hidden Rooms Were you can Get Extra points If you found 1 of those rooms The Host MC will say Big Money Big prizes I love it and it will have a fancy room design
Another main thing you will need Is The power ups . Because While the standard shot works and kills people it ant very helpful against Like the 50 people coming at you at once. And Plus you will Need The more Powerful Guns for The Bosses.
Plot The Plot of Smash Tv Means You are the next lucky contestant to be on the Game show.So As The Host says Big money Big prizes You mainly Kill all enemies while getting The Prizes. The Prizes themselves are used for Bonus Points at the end of the level after you completed it. Red and Blue Prizes The Guy shouts Yeah!. If its a Yellow present The lady goes Woo . Same with The Cash in the game it is also Used For Bonus Points at the end of the level to increase your high score.
Graphics Taking a look at this Classic by Williams and also on Midway Arcade classics Its good old Classic fashioned 2d All Stages Have a good amount of Detail and Enemies Trust me This game its gonna have A military of Enemies coming at you in each level. Sprites for The Most Part are nicely done as well They have a nice solider look and feel to them which works great for the games style Rather then just looking like some random person The Bosses are also done well too I'm gonna describe them in words. Mutoid Man A crazy Robot machine like human .Scar face Happens To look like The Face Of Shriek at least to me . Die Co bros Pretty much 2 Cobra's that are known of another form of snakes that are huge . Evil Mc Pretty Much A harder Version of Mutoid Man But with the appearance of The Game host .Once you beat him he has a lot of presents that increase your score, . Graphics gets a 10 They look really nice and Bosses also stages look great in this 90's game
Sound Most sound effects are that of The Crowd and you Shooting the Heck out of The Enemies and As well The host speech. Even with that said it was pretty advanced for the time because No early arcade game like this 1 had voice samples .Soundtrack I like how Dark and Creepy it sounds It goes perfectly With the Dark style of Graphics this game has A great amount of bass to kick up the music and keep it fresh. Sound gets a 10 its the main part of voice samples That made it pretty advance considering no other game had this at the time And the Soundtrack Fits perfect with this Style of game
Addictiveness This is why I said This game made Williams Boat loads of money and left Tears of Joy going to the bank lol . Because This Had 50 Enemies that were very fast and made you look like a slow poke. It was fast quickness And Challenge of The Enemies Bosses and Neat Power ups that made this game Fun to Play back in The Day . Addictiveness gets a 9 for the reason said above
Story Explained in plot I will rate it a 8 because it already clears what your supposed to do in the game.
Depth Now you think possibly Shooters Were only Like four levels long and not a whole lot of enemies were there. The 4 levels were the right case in the game. But the Enemies in case was not . Cause They Went And Pushed the limit of enemies in this game Because their are Like 150 enemies or less in Each Route with their speedy quickness .Depth gets a 7
Difficulty This is a Really hard Game do to The Many Enemies Coming and Hitting you at once Because your are slow from the beginning the enemies are fast. Even with A speed shoe power up Because you will never now Which Direction they will come out of. And not to mention You can die like in 30 seconds in this game Also That The Bosses are pretty hard themselves. Controls work good with a Keyboard But in A game Like This I would really Recommend a Game pad Because this is 1 of The games that requires Precession Moving .And not to mention a Keyboard just does not ideal for this type of game. Considering The Actual Arcade Cabinet Made you use two Joysticks 1 for moving 2 for fire .So that's why I recommend a game pad for this type of game. Difficulty gets a 8
Overall Even with the insane hard difficulty That made this game a great classic That Made The arcades Boat loads of money. Like in The Game Williams Must had Enjoyed their wealth of Quarters from people getting into this game. Also various home ports such as nes snes Genesis Amiga And other systems Got a release of this great classic.Overall a 9,6
Graphics
10
Sound
10
Addictive
9
Depth
7
Story
8
Difficulty
8
Smash T.V. (rev 8.00) Game Description
Smash T.V. (c) 1990 Williams Electronics Games, Inc.

The year is 1999. Television has adapted to the more violent nature of man. The most popular form of television remains the game show. One show in particular has dominated the ratings. That show is SMASH TV. The most violent game show of all time. Two lucky contestants compete for cash and prizes. Each contestant is armed with an assortment of powerful weapons and sent into a closed arena. The action takes place in front of a studio audience and is broadcast live via satellite around the world. Be prepared. The future is now. You are the next lucky contestant!

Smash TV Game Rules :
1. Move with LEFT joystick to avoid enemies and gather prizes (cash and game show gifts).
2. Fire weapons with RIGHT joystick and collect power-up icons for increased firepower.
3. Advance to next game arena when enemies are gone.

- TECHNICAL -

The first series of cabinet was released with 19-inch monitors while the more common second series was fitted with 25-inch monitors.

Williams Y Unit hardware
Game No. 3044-U1

Main CPU : TMS34010
Sound CPU : M6809
Sound Chips : YM2151, DAC), HC55516

Screen orientation : Horizontal
Video resolution : 410 x 256 pixels
Screen refresh : 53.20 Hz
Palette colors : 4096

Players : 2
Control : Double 8-way joysticks

- TRIVIA -

Released in April 1990.

A superb sequel to 1982's legendary single screen shoot-em-up, "Robotron - 2084". The Classic Robotron game-play is enhanced further with the addition of power-ups and imaginative and challenging end-of-level bosses. The two-player game introduced a very high level of competitiveness as both players try to beat each other to the power-ups, prizes and keys.

The game seems to be based, at least in part, on the sci-fi action movie, 'The Running Man', starring Arnold Schwarzenegger. This movie itself was based on a book of the same name by Stephen King (under the pseudonym 'Richard Bachman').

One of Smash TV's more memorable elements was the game show host; at random intervals, a garishly suited, grinning host would pop up and enthusiastically announce such memorable sound-bites as, 'Total carnage! I love it!', 'I'll buy that for a dollar!' (taken from the 1987 movie Robocop), 'I love it!', 'Big money! Big prizes! I love it!'.

A Smash T.V. sequel was planned, but the project never got past the planning stage and nothing more was heard of it. While Smash TV has yet to see a fully-fledged sequel, it WAS followed by a semi-sequel in the form of 'Total Carnage'; a military-themed scrolling shoot-em-up which was housed in a cabinet very similar to that of Smash T.V.s and shared the same dual joystick controls. Upon completion of Total Carnage's incredibly difficult first level, a message screen appeared stating that "all Smash T.V. players should quit and flee from this machine" before Total Carnage's already high difficulty level increased further. A solid follow-up to an already challenging game.

On the 2005 video game "Grand Theft Auto - Liberty City Stories", there is a side-mission called 'Slash TV', which parodies this game, where the player's character is surrounded by enemies, and is awarded cash for eliminating waves of them. The camera angle changes from the game's traditional third-person to a slightly angled overhead view so it looks like the original.

- UPDATES -

Revision 1 :
* Software version 3.01.

Revision 2 :
* Software version 4.00.

Revision 3 :
* Software version 5.00.
* Added the 'Reset secret warp' (see 'Tips And Tricks' section for more info).
* Reduced difficulty (Factory setting : 3 (easy) instead of 5 (medium)).

Revision 4 :
* Software version 6.00.

Revision 5 :
* Software version 8.00.
* Added the famous 'Pleasure Dome'.
* Changed some 'in-game texts'.
Smash T.V. (rev 8.00) Reviews
Overall 9.1 Graphics 9.5 Sound 9.5 Addictive 9 Story 7.5 Depth 8 Difficulty 8.5
9.6
I Buy this game for a dollar or quarter
SuperCrash64
Alright this is smash Tv . I Am surprised there was no reviews of this instant classic ...
Graphics
10
Sound
10
Addictive
9
Story
8
Depth
7
Difficulty
8
Review Rating:
4.5/5
Submitted: 03-27-13
Updated: 03-29-13
Review Replies: 4
Smash T.V. (rev 8.00) Highscores
rcarter2
1. 21,890,030
TimeTrial:
01:28:31
07-26-15 02:22 PM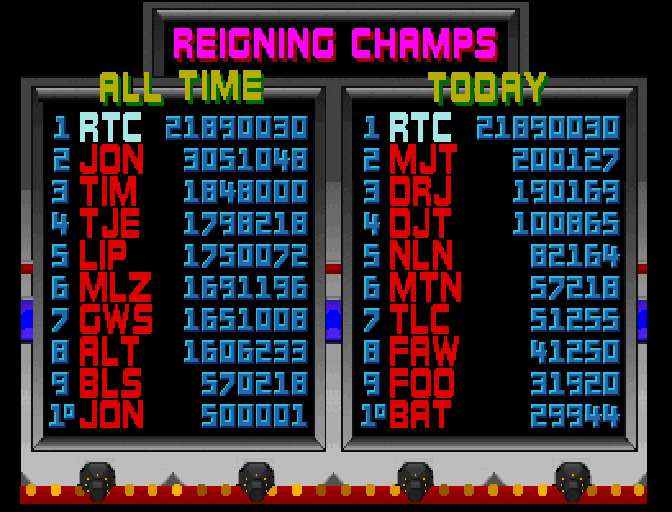 Ferdinand
2. 19,973,510
TimeTrial:
01:12:48
11-27-15 05:39 AM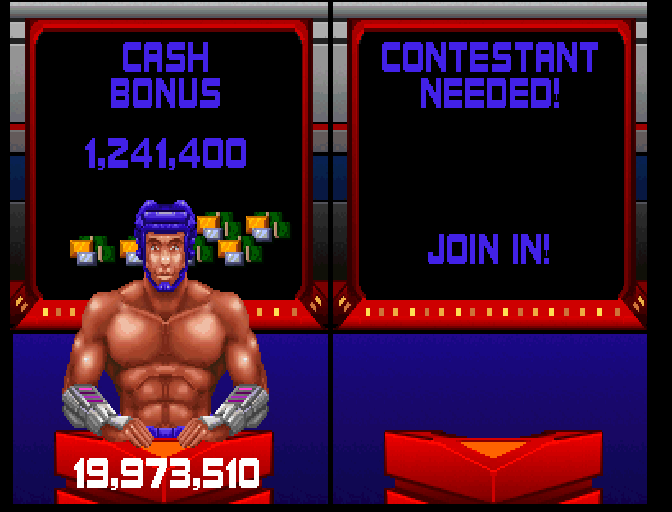 natethefox
3. 9,356,290
TimeTrial:
00:34:43
07-26-15 12:48 AM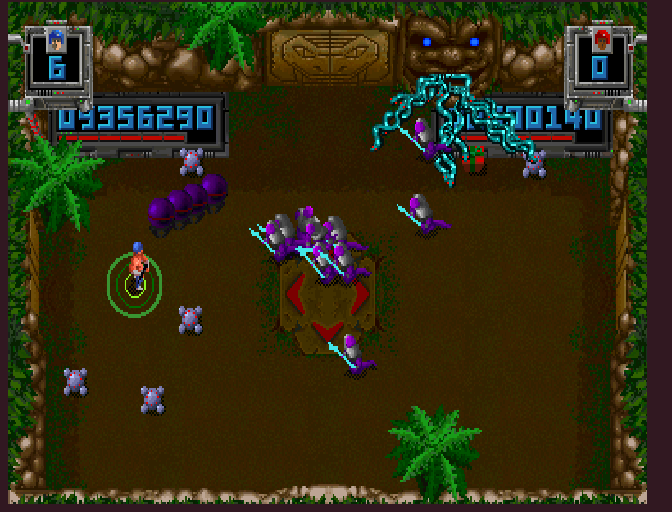 Smash T.V. (rev 8.00) Cheat Codes
- TIPS AND TRICKS -
* Secret Warp (Works on 5.00 and Up) : when you start a game of Smash T.V. on the first level, reset the machine, it'll take you to the 'Secret Warp 3' and take you to the third boss stages.
* Difficulty : the game is known to adjust its difficulty by the daily high score list. If the high scores are too high, making the game too hard, just reset the machine

.
* Don't try to conserve ammo. Your shots should be efficient and kill as much as possible, and you won't have time to think about conserving shots (especially in the latter stages). The pattern of moves you should follow at the end of each board to reach the easiest boards is :
Level 1 : right, up; and then you have no choices.
Level 2 : up, right; and then again, no choices.
Level 3 : right, right, down; and then you have no choices.
* When playing with 2 people, if one player finishes the level near an exit, the other will 'walk through the wall' to the next room. Can be useful on some levels.
Smash T.V. (rev 8.00) Threads
Smash T.V. (rev 8.00) Guides and Walkthroughs
There are no submitted Guides for this Game
Users who own Smash T.V. (rev 8.00)
There are no users who own this Game
Game Characters in Smash T.V. (rev 8.00)
Comments for Smash T.V. (rev 8.00)
MusicalMinerdude
08-10-17 - 03:35 PM
Biiig money! Biiig prizes! III LOVE IT!!
Kevric
08-11-14 - 10:39 PM
game works fine for me :)
pollyisagoodbird
04-29-13 - 03:56 PM
How the heck can people get screenshots if the game is unplayable?
SuperCrash64
03-22-13 - 07:11 PM
nvr mind it does not work:(
SuperCrash64
03-22-13 - 06:20 PM
Thank goodness i was looking for this game