Play R.B.I. Baseball (NES) - Online Rom | Nintendo NES
Play R.B.I. Baseball online with Nintendo NES browser emulation for free! R.B.I. Baseball (NES) game rom is loaded with features in our flash, java and rgr plugin emulators. Nothing to configure, we've done it for you!
R.B.I. Baseball (Nintendo NES) Screenshots
Videos of R.B.I. Baseball Gameplay
Ferdinand
10-11-14 02:13 AM
00:21:47
Views: 30
5/5
R.B.I. Baseball (NES / Nintendo) - Vizzed.com GamePlay
There is currently no one playing this online
R.B.I. Baseball Rom Hacks
R.B.I. Baseball Featured Review
R.B.I. Baseball Review by:
jparks34
- 9/10
RBI Baseball (NES): The original, and still the best?
RBI Baseball
Developed by Namco, Published by Tengen (1987)
RBI Baseball is, in this reviewers opinion, the most fun baseball experience on the NES. First of all, it features real players, which was a plus over anything else at the time. Of course the players names were abbreviated, but we all knew who they were. Some of the more notable players in the game are Reggie Jackson, Roger Clemens, Andre Dawson, Daryl Strawberry, Ozzie Smith, Mark McGwire, Nolan Ryan, and many more.
RBI Baseball features only 10 teams however. 8 teams listed by city only: Boston, California, Houston, New York, Detroit, Minnesota, St. Louis, San Francisco. Each of those teams were first place in their division in either 1986 or 1987. The other two teams are the NL and AL all-star teams with a wide variety of talent from the leftover teams.
All the players pretty much look the same, especially in fielding mode. Each player does have it's own attributes, for example power hitting and speed. The best hitter in the game is Reggie Jackson (California), and the fastest runners in the game are Vince Coleman and Ozzie Smith (St. Louis). Fielding attributes are the same for all teams.
And speaking of fielding, that is really the only shortfall in the game. You don't control the infield base positions at all, and the directional pad controls the movements of all your controllable players at the same time. For instance, if you move your center fielder to the right, your right fielder will also go to the right. This can be bothersome when you are trying to judge where a ball is going to fall in the outfield.
Pitching is fun, but can be difficult with only 4 pitchers. You press down for a fast pitch, and up for kind of a knuckle curve type pitch, and go left and right to choose the location. Your starting pitcher will eventually get tired, and you'll have to choose when is the best time to put in one of your 2 relievers. You can't put in your other starter if you want to play the next game, because fatigue will carry over to the next game.
Kind of similar to the original tecmo bowl, there isn't a true career or season mode, but you can progress game by game until you defeat all the teams. At the end of the game, there is a type of newspaper layout, and the players will throw their hats into the air equal to the number of games you have won, which I always thought was an interesting little thing to see after a successful win.
Pretty much every game is going to become a run-scoring slugfest. You won't have very many 2-1 or 1-0 games here. Think more like 15-9 type scores. Just about every pitch is a home run opportunity for the right batters, some teams having more HR hitters than others. Same when you're pitching, the ball can be knocked out of the park in a heartbeat. It is nothing out of the ordinary to see multiple home runs back to back.
This isn't necessarily a bad thing, the game is simple, and it is a run fest. It isn't supposed to be a full sim, and it isn't. It just gets the job done, and provides hours and hours of fun gameplay. Experiment with different teams and players, and get a good mix of home run power and base stealing speed to find the type of gameplay that you're looking for.
In conclusion, RBI Baseball was and still is one of the greatest baseball games ever made. It was the first game to ever be licensed by the MLBPA (Major League Baseball Players Association) and feature the names of real players, which made it so much better than playing with generic players in games like Bases Loaded. It is fun, and memorable, and felt rewarding.
Graphics (7/10): Just basic players with basic four directional movement, and all the players pretty much look the same. All the stadiums are the same, etc. But it's an NES game, what more can you expect? The colors and feel of the game are all there.
Sound (8/10): Nothing like hearing the sound of the ball fly through the outfield and into stands and hearing the music play after a home run. And the ever familiar music that you hear during the game still gets stuck in my head all the time.
Addictiveness (10/10): It is just plain fun, and you just want to keep playing. It is a very satisfying feeling once you get through beating all the teams in the game, including the all-star teams.
Depth (5/10): There is only 10 teams, and later installments of the series have the full amount, but this game is still the one that gets remembered.
Difficulty (6/10): Pitching can be rather difficult, especially when your pitcher gets tired and is just barely tossing the ball up there. But if you get rocked early, you can't immediately go to the bullpen because you only have 2 relievers. You pretty much have to stick with your starter for 6-7 innings to have a real chance, unless you just plan on outscoring your opponent, which is entirely possible! Scoring runs is pretty easy to come by.
Overall (9/10): It isn't the prettiest or the best sounding, but it gets the job done in the fun department, and it really is a piece of history. It was the first game to have real players, and it didn't disappoint. RBI Baseball is a cult classic still enjoyed by many today.
Graphics
7
Sound
8
Addictive
10
Depth
5
Difficulty
6
R.B.I. Baseball Game Description
Here's the baseball action that started it all - the one, the only, the original RBI. With permission from the Major League Players Association, this game uses the names and likenesses of real baseball players. This means the ten different teams in the Tengen league can have lineups that include baseball stars of the time; such as Reggie Jackson, Fernando Valenzuela, and Willie McGee. Stats and abilities have been structured to give each player strengths and weaknesses he had in the 1986 and 1987 seasons. You'll have to use your knowledge of real players and teams to manage your lineup effectively.The teams you can choose from include Detroit, California, Houston, San Francisco, and even the American and National League All-Star teams. In One-Player mode you compete with the computer for the pennant in a nine game season. If you want to go head-to-head with a friend, you can each pick your favorite team and then compete in your own best-of-seven series.
R.B.I. Baseball Reviews
Overall 8.1 Graphics 7 Sound 8 Addictive 10 Depth 5 Difficulty 6
9
RBI Baseball (NES): The original, and still the best?
jparks34
RBI Baseball Developed by Namco, Published by Tengen (1987) RBI Baseball is, in this reviewers opini...
Graphics
7
Sound
8
Addictive
10
Depth
5
Difficulty
6
Review Rating:
5/5
Submitted: 08-12-13
Review Replies: 1
R.B.I. Baseball Highscores
nuggula1
1. 15
TimeTrial:
00:00:00
04-15-18 04:37 AM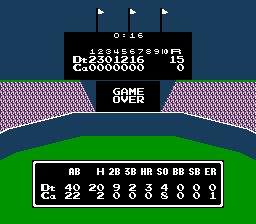 HitCityNuggy!!!!
R.B.I. Baseball Threads
There are no submitted threads for this Game
R.B.I. Baseball Guides and Walkthroughs
There are no submitted Guides for this Game
Users who own R.B.I. Baseball
Comments for R.B.I. Baseball
Journeyman1
07-25-15 - 08:19 PM
Music will eventually cause psychotic behavior, but at the end of the day I'd rather play this than LJN's Major League Baseball. Bases Loaded (first one) still best NES baseball game in my opinion.
Will1
01-30-15 - 06:30 PM
Really like playing this game growing up
Ferdinand
10-11-14 - 01:27 AM
If this wasn't the best baseball game you ever played in your life at some point you may not appreciate this awesome title.
justin91992
05-02-14 - 01:07 PM
the controls on this game for the feilding is garbage and the music is so anoyying u cant even hear yourself think when ur playing
lightning1290
08-01-12 - 06:34 PM
it's a pretty good game yea.
workthistimegos..
07-18-12 - 08:26 PM
E.T McGee blastin' dongers
goody
06-19-12 - 08:21 AM
Back To The Pass Classic
Maverick987
12-21-11 - 07:37 AM
how can you think this scum is good?
Huskerfanz44
06-18-11 - 12:21 PM
booooo
jl11181
06-07-11 - 06:23 PM
well i don,t want to bother you are anything but it would be nice to chat every once in a while
jl11181
06-07-11 - 06:16 PM
hey neal how are you doing
Bluebandits
04-29-11 - 02:43 PM
i own it but my nes broke
Bia
01-05-11 - 08:42 PM
great game i like it
Mightsin
10-25-10 - 10:50 PM
Awesome Game