Play Pac-Man Plus (MAME) - Online Rom | Arcade
Play Pac-Man Plus online with Arcade browser emulation for free! Pac-Man Plus (MAME) game rom is loaded with features in our flash, java and rgr plugin emulators. Nothing to configure, we've done it for you!
Pac-Man Plus (Arcade) Screenshots
Videos of Pac-Man Plus Gameplay
RetroGameNinja
06-24-14 04:02 PM
00:02:06
Views: 60
5/5
Let's Try: Pac-Man Plus
There is currently no one playing this online
Pac-Man Plus Game Description
Shadow, Speedy, Bashful, and Pokey are back! In this strange new adventure, Pac-Man is back at munching those dots again. His new bonus concoctions turn ghosts invisible and vurnerable and the power pellets usually only turn 3 ghosts blue! Will Pac-Man make it through?
Pac-Man Plus Reviews
There are no submitted reviews for this Game
Pac-Man Plus Highscores
dwdrake2
1. 106,030
TimeTrial:
00:13:11
10-11-16 03:57 PM

Ferdinand
2. 21,960
TimeTrial:
00:11:08
11-03-15 10:33 PM

Supermatt6534
3. 5,740
TimeTrial:
00:02:59
05-06-16 06:38 PM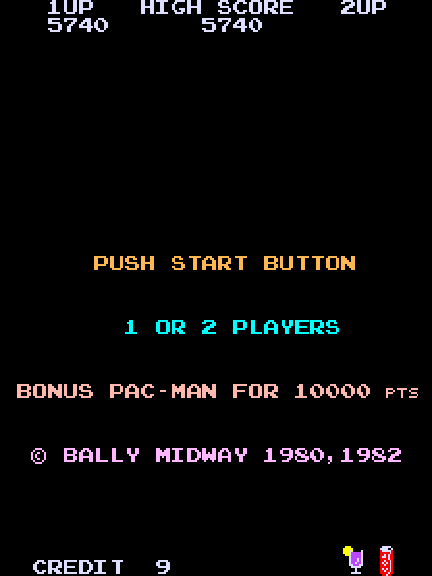 Pac-Man Plus Threads
There are no submitted threads for this Game
Pac-Man Plus Guides and Walkthroughs
There are no submitted Guides for this Game
Users who own Pac-Man Plus
There are no users who own this Game
Game Characters in Pac-Man Plus
Comments for Pac-Man Plus
Ferdinand
08-07-15 - 04:40 AM
It makes me very angry when I get the power pellet but Blinky doesn't get scared.
Singelli
10-14-14 - 02:16 PM
It was actually by Namco, but Midway got a license for it. So Acidpurewarrior gets the prize. :D
mega man221
07-26-14 - 01:16 PM
The screen turns black when you get a power pellet in the corn husk stages.
Acidpurewarrior
07-17-14 - 12:16 PM
Pac-man is namco midway manufactured it for the USA
Maxwell3456
07-15-13 - 07:13 AM
The control panel says namco ltd.
mrkoolnerd
06-29-13 - 02:36 PM
didn't they become midway though?
Pacman+Mariofan
06-18-13 - 02:20 PM
The title screen says it's by Bally Midway. That is the same company that made Ms. Pac-Man.
mrkoolnerd
06-12-13 - 12:05 PM
no midway i believe but it is by the same people who distributed mrs.pacman
Maxwell3456
06-12-13 - 10:21 AM
Is this by namco?