Play Mega Bomberman Online GEN Game Rom - Sega Genesis Emulation - Playable on Mega Bomberman (GEN)
Play Mega Bomberman online with Sega Genesis browser emulation for free! Mega Bomberman (GEN) game rom is loaded with features in our flash, java and rgr plugin emulators. Nothing to configure, we've done it for you!
Videos of Mega Bomberman Gameplay
There is currently no one playing this online
Mega Bomberman Featured Review
Mega Bomberman Review by:
Eddy88
- 9/10
Mega Bomberman (Sega Genesis/Megadrive)
16-Bits Bombs.

In 1985, Hudson Soft, (creator of other great game series such as Adventure Island, Bonk or Star Soldier) released for the Nintendo Entertainment system (or NES, for the most part of the people). A game with an original concept, based a bit on Maze games and a bit on Puzzle games. At this point, I bet you know about which game I'm talking... If you said "Bomberman", Congratulations then. You know me very well. The objective of this game was simple, Killing enemies by using bombs, and blast away walls and such, to find the exit of the stages or items that could help you on your way... With the pass of the years, more games came out, for different systems. Even though all those games added different gameplay modes (such as the famous "Battle Mode"). These always kept the original gameplay mode of the first game. Eventually, at 1993, our little White hero made his first appearance on the Sega Genesis, with a game named "Mega Bomberman". Which is one of the best games of the saga... If you feel interested on this... Go ahead and read this review!
Story: Hidden in the depths of the Universe, on an unknown Galaxy, there's a planet named "Bomber Planet", which is the home world of the Bombermen... Who are robots with the ability of creating bombs by using only their hands. The inhabitants of this planet are protected by five Spirits... These spirits not only protect the planet, they also keep it united. One day, a mysterious meteorite crosses around the planet's orbit. Five light balls come from the same and then, impact on five different parts of the planet... To be precise, over the five Spirit pictures, which are the power source of the same and it's protectors... Coincidence? No... All this was planned by the evil Bagular, who camouflage his ship as a meteorite. Due to the spirits losing their power source, the planet is divided into five pieces. And the only way to restore it, is finding the pieces of the Spirits pictures, who are scattered around the planet's pieces. Here's where our hero, the White Bomberman, decides to hop in to save the day. (8/10)

Graphics: Great, the graphics are superior, in comparison with the previous games of the saga. The sprite of our hero,his bombs, the obstacles, Items and the enemies that lurk around the stage are of the same size. (The only exception are the bosses, who are bigger in size) Also, there are animated in an acceptable way. Backgrounds are okay... Pretty simple. (8/10)

Sound: Great as well, Some of the tracks of the game are really catchy and memorable. (For Example, Slammin' Sea) SFX are okay. Nothing special to point out about them. (8/10)

Addictiveness: If you like maze or puzzle styled games... You must try this, Especially in battle mode. Which is one of the best features of the title. (8/10)

Depth: If you have played a Bomberman game before, you should now what to expect... Moving around the screen, while putting bombs to defeat the enemies that are around the same. Now, this title is a bit different in terms of Gameplay when compared to the previous games... The first difference: To clear the stage, you must destroy those metallic things that hold a Blue Sphere. Once doing this, the Glass sphere that contains the part of a Spirit Picture will break, letting you pick it up. If there's not a Glass sphere on the stage, then, a door will open, leading to the next part of the stage... Another difference, is that you can pick up more than one power up. (a BIG advantage), and the last difference, are the "Rooeys", which are Kangaroo-like animals that Bomberman can ride, those are hidden inside of breakable blocks, as an Egg. There are different kinds of rooeys, each one with different abilities (For example: The green one can Run faster, the Purple can jump over enemies, bombs, and destroyable blocks, and the Pink one can... Dance? Okay...) to use those abilities, you must press A. Oh, and let's not forget Battle Mode, which let's you play with some friends (or against the IA). (8/10)

Difficulty: Not so hard, Not so easy... It's in the middle. All depends of your skills and the power ups you have. (8/10)

Final Rating: 9

As I said at the start... One of the best games of the Bomberman franchise. A pretty fun and decent game... All it needs, is your attention.

-Eddy Out-
Graphics
8
Sound
8
Addictive
8
Depth
8
Story
8
Difficulty
8
Mega Bomberman Game Description
BOOM! Here it is! This frantic arcade classic is a guaranteed blast. Bomb your way around scrolling mazes collecting power-ups in search of the magical locket. Or plug in up to four players to unleash a hugely addictive blast-a-thon of multiplay mayhem!
Mega Bomberman Reviews
Overall 9.3 Graphics 8 Sound 8 Addictive 8 Story 8 Depth 8 Difficulty 8
9
Mega Bomberman (Sega Genesis/Megadrive)
Eddy88
16-Bits Bombs. In 1985, Hudson Soft, (creator of other great game series such as Adventure Island, ...
Graphics
8
Sound
8
Addictive
8
Story
8
Depth
8
Difficulty
8
Review Rating:
4.8/5
Submitted: 01-30-13
Review Replies: 3
Mega Bomberman Highscores
dragonslayer444
1. 193,300
TimeTrial:
01:03:48
06-11-14 03:30 PM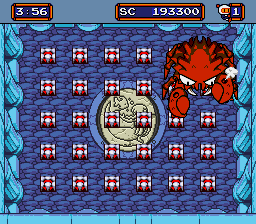 Awesome-Kid
2. 61,400
TimeTrial:
00:13:20
01-26-14 04:51 PM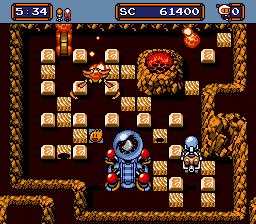 Mega Bomberman Guides and Walkthroughs
There are no submitted Guides for this Game
Users who own Mega Bomberman
Game Characters in Mega Bomberman
Comments for Mega Bomberman
MusicalMinerdude
04-12-17 - 09:53 PM
Yep. And it's a darn good port by Westone, despite some minor graphical stuff missing and a little bit of slowdown.
Shard_Flame132
09-18-14 - 11:29 AM
Isn't this JUST LIKE Bomberman '94?...But, english?
Ryroe
11-09-13 - 02:47 PM
I thought Super Bomberman 3 was my favorite, but this one seems very awesome. Maybe it's better. :D
VaradDude630
05-08-13 - 10:57 AM
awesome game :D
sonicbros
05-06-13 - 06:46 AM
The best Bomberman game
Deleted Account..
09-04-12 - 02:27 PM
Difficult game, but incredibly fun!
dinoss
06-09-12 - 11:58 AM
ok it works i can see my game idk what happend
dinoss
06-09-12 - 11:46 AM
why do i get black screen i cant see the game why -.-
Nora2012
06-08-12 - 10:24 AM
hola!!
manahil
05-16-12 - 07:30 AM
wht da :@ :X
angel255ad
01-31-12 - 02:46 PM
Wait nope lol mine are working fine now :D AWSOME lol
angel255ad
01-31-12 - 02:43 PM
This game don't work the keys have fecked up
pili
01-27-12 - 10:50 PM
hola
domokun
01-19-12 - 09:57 AM
my arrows won't work why???
Beastmaster76
12-29-11 - 09:19 AM
I really like those girls.
Razail1
12-28-11 - 02:08 PM
lol
necromangel
12-27-11 - 12:09 PM
finished without diyng UHUL
necromangel
12-24-11 - 12:22 PM
im addicted kkk
shiva_winter
08-11-11 - 10:55 AM
i wanna hear the "sega" at the start lol.
strontydog
07-31-11 - 05:04 AM
can u fullscreen it somehow?
_max_1
07-15-11 - 05:37 PM
schulers!!!!
link12399
04-20-11 - 04:05 PM
dosen't crash on world 1-3 for me
BenSwanster
02-23-11 - 11:03 AM
geezuzz
NinjaLoganG
02-20-11 - 10:56 AM
I LOVE THIS GAME
Matko
12-08-10 - 08:20 AM
i need plug in for mac