Play Football Director Online C64 Game Rom - Commodore 64 Emulation - Playable on Football Director (C64)
Play Football Director online with Commodore 64 browser emulation for free! Football Director (C64) game rom is loaded with features in our flash, java and rgr plugin emulators. Nothing to configure, we've done it for you!
Football Director Screenshots
bosskuk
03-21-13 05:18 PM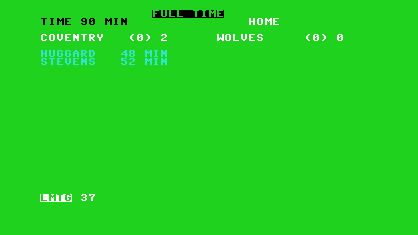 4.6/5
Edit Screenshot
Misc: football director
football director full time
Videos of Football Director Gameplay
There are no submitted videos for this Game
Football Director Featured Review
Football Director
It's been a long time since I played this game. However, I was addicted to it as a teenager and can offer some insights in to what makes this a great game and, slightly off topic, how you might go about achieving some success with it.
This game doesn't have any graphics or fancy music. You won't see a picture of a ref or manager, let alone a player. This is a minimalist game. Its all about two attributes and whether you can harness sufficient amounts of them to propel you towards the topflight and success. Patience and balance.
Your role is a combination of Director, Manager and Coach. You inherit a team in the lowest division in the football league (the old Fourth Division) with a small budget and a squad of lowly players. The players have an assortment of last names, none of them famous in any way. Thankfully, you can change those names. The players can be a goalie, a defender, a midfielder or a forward. They are rated out of 9 (1 to 9) with 9 being best. For those 9s that are capped for their country, they achieve an additional rating of being a 9I (the I standing for international).
You will start with a team consisting of players rated 1 or 2, with the odd 3 thrown in. From memory, the only team formation that seems to be available is 4-3-3. Each area of the pitch is attributed an average rating based on the ratings of the players in that area, divided by the numbers of players in that area. For example, if your defence consists of a four players rated 2,3,4,2 respectively - your defence achieves an average rating of 3 (rounded up).
When you start out in the fourth division, your team is poor. Do not make the mistake of trying to improve it straight away by buying an expensive player in the form of a 7 or an 8. These players will not improve your team. Because the game won't let you buy instant success. If you buy an 8, and put him in to your team, the computer will increase the difficulty level of the game and your player will start losing form along with the rest of the team. Although a player starts out as an 8, he can reduce to a 7 or a 6 fairly quickly if you go on a losing streak. That is the same of all your players. On the flip side, go on a winning streak, and your player ratings improve.
You need to have patience. Let your team gel. Never bother looking at the pre game review option where you see the strength of the opposition. For some reason, this generally results in a loss. Put your strongest team out and start looking at minor improvements. Buy 2s if you can. If you have a 3, sell him. You need to create a balanced team. You also need to balance your budget. It will be a long time before you can spend transfer money with gleeful abandon. If you go too far in to deficit you will be sacked.
The interesting thing about the game is that it rewards patience. If you stay true to your players, they start to become greater than the sum of their parts.
It is likely that you will be in the fourth division from anywhere up to two to four seasons (maybe longer). You will sell many players, you will build up your cash reserves, you will move from an average of 2,2,2,2 to an average of 3,3,3,3 or maybe higher.
There are other features that you will notice. You can hire a coach and a physio. You can hire a scout to look for certain players. You can buy and sell shares. You can have an overdraft with the bank. You can increase the size of your stadium. You can bet on yourself to win the cup and, or promotion / the league title. Personally, I'd keep costs down to a minimum. At best, you might get a coach and perhaps a physio.
I mentioned before that the game won't let you achieve success quickly. There are difficulty ratings on this game. Easy, Moderate, Hard. When you start achieving some level of success (e.g. a cup run, a concerted drive towards promotion etc) the game will automatically increase the difficulty rating. This means the teams around you become better. It's harder to win. You have to accept that. You have to keep chugging away, slowly improving your side, selling your outstanding players and maintaining the balance.
You will get out of Division Four. You will scrap and work your way out of division three. Division two will be mastered. And then it's the top flight. By the time you get there, you'll need to have increased the size of your stadium. You need the revenue. The reality is, the top flight is incredibly tough. In my first season, I barely won a game. I went straight back down. What I didn't do was try to over invest. I sold my better players, I accumulated the proceedings from the increased gate takings, and when I was relegated, I had a far bigger pot of cash to begin rebuilding than when I went up. That might happen two or three times. When you are in the second division a 2nd time, you should think about having a bet on yourself for promotion. It's good money. Eventually, you'll improve. The good thing is that a team that has played in the top flight, will generally walk the second division title. And with 30+ wins under your build, your players ratings increase out of hand. A 6 can increase to an 8. An 8 might be international class by the end of the season.
Eventually, with prudent management, you build a decent team, and accumulate the cash to sustain it. For me, the optimum side was 9,8,8,8. You will win a cup and, eventually, you'll win the league. Then you start competing in Europe. The gate takings are higher. This adds further funds to your kitty. I found that an average of 9,9,9,9 did not equate to success. Don't be afraid to sell a 9I and buy a 7 to keep your balance. Even with this type of team, it is hard to dominate the league for long. Keep things fresh.
So, in summary. Patience. If you don't have it, don't bother with this game. Balance - in terms of the finances and the squad is essential. Don't invest in marquee players early on. Be prudent and don't get attached to players. Sell them, invest part of the cash and bank the rest. Don't get frustrated by perceive failure. You may lose a few campaigns, but you are building towards success. This game teaches you the importance of details, of patience, of planning and the enjoyment of hard earned success.
Good luck!
Addictive
10
Depth
10
Difficulty
10
Football Director Reviews
Overall 6.8 Addictive 10 Depth 10 Difficulty 10
10
Football Director
FredElliot
It's been a long time since I played this game. However, I was addicted to it as a teenager an...
Addictive
10
Depth
10
Difficulty
10
Review Rating:
4.4/5
Submitted: 11-15-12
Review Replies: 0
Football Director Highscores
There are no submitted highscores for this Game
Football Director Threads
Football Director Guides and Walkthroughs
There are no submitted Guides for this Game
Users who own Football Director
There are no users who own this Game
Comments for Football Director
MeatAndPotatoes
01-03-15 - 02:04 PM
In case you hadn't noticed, "FredElliot" was really addicted to this game.
FredElliot
11-14-12 - 01:03 AM
I was really addicted to this game as a kid. I had Striker Manager, and that was fun, but this was a different level. Hard, tough, cruel, but rewarding.