Play Donkey Kong Classics (NES) - Online Rom | Nintendo NES
Play Donkey Kong Classics online with Nintendo NES browser emulation for free! Donkey Kong Classics (NES) game rom is loaded with features in our flash, java and rgr plugin emulators. Nothing to configure, we've done it for you!
Videos of Donkey Kong Classics Gameplay
KiddoCabbuses
08-18-14 06:07 AM
00:12:00
Views: 4,329
3/5
(Saturday Supercade) Donkey Kong - 019 Hairy Parent
rcarter2
11-23-13 10:10 PM
00:03:54
Views: 13
3/5
Donkey Kong Classics (NES / Nintendo) Playthrough
mourinhosgum
11-22-13 12:46 PM
00:00:00
Views: 0
3/5
Donkey Kong Classics Playthrough(NES)
Donkey Kong Classics Game Description
What's more fun than a barrel of monkeys? A Donkey Kong double feature! In DONKEY KONG you'll duck barrel bombs and flaming fireballs as you help Mario save his girlfriend Pauline from the clutches of Donkey Kong. In DONKEY KONG JR., you'll join forces with these madcap monkeys to help Donkey Kong Jr. rescue his father from Mario's prison. Are you ready for laughter? You'd better be. Because this double dose of monkey business will have you rolling in the aisles!
Donkey Kong Classics Reviews
There are no submitted reviews for this Game
Donkey Kong Classics Highscores
toucansam3
1. 40,900
TimeTrial:
00:08:39
02-18-13 09:57 PM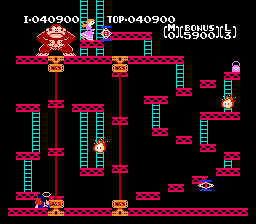 Donkey Kong Classics Threads
There are no submitted threads for this Game
Donkey Kong Classics Guides and Walkthroughs
There are no submitted Guides for this Game
Users who own Donkey Kong Classics
Game Characters in Donkey Kong Classics
Comments for Donkey Kong Classics
pipoboy2000
10-02-11 - 06:47 PM
I made it up to level 4 in Donkey Kong :P
JacobNavinIII
03-14-11 - 03:47 PM
037400?!
alahndanger
03-01-11 - 02:10 PM
wtf this sucks
david69
02-18-11 - 03:05 PM
get a dif version this ones f***ed up
survyguy79
02-01-11 - 12:16 PM
this game is messed up just get a new version
NintendoKing156
11-30-10 - 10:58 AM
OMG this is just so mixed up. :P
khilag
12-06-09 - 05:18 PM
Can we please get a better version
Fabbe Fabiano 2
08-13-09 - 01:42 PM
Donkey kong junior has graphic prolems. and the title screen inintials!!!!