Play Crash Bandicoot 3: Warped (PSX) - Online Rom | Playstation
Play Crash Bandicoot 3: Warped online with Playstation browser emulation for free! Crash Bandicoot 3: Warped (PSX) game rom is loaded with features in our flash, java and rgr plugin emulators. Nothing to configure, we've done it for you!
Crash Bandicoot 3: Warped (Playstation) Screenshots
Videos of Crash Bandicoot 3: Warped Gameplay
There is currently no one playing this online
Crash Bandicoot 3: Warped Featured Review
Crash Bandicoot 3 Warped review
The Crash Bandicoot series was much loved in it's early years. A sense of comedy for a handful of deaths and an antagonist that has a fine mix of evil menace and Dr. Wily like cowardice when in the face of defeat, and not to mention it's fairly good graphics, addictive game play, secrets and it's just awesome to listen to music, this series has won the hearts of many over the years, and then lost them due to what most other game designers have fallen for; running out of ideas, or sometimes, a good idea executed poorly. The first three games of the series, as well as the racing game that came after it, are probably the best in the series, and the third game is no exception. In fact, if you have the box of this game, you just need to have a look at the cover to be convinced. This is one of the few games that has the box art that convinces me it is a good game. It's got a motorcycle, a Sphinx in the background, a ball of what looks like teleporting goodness and a bazooka that fired wumpa fruit. I mean, how can you go wrong?
The story starts out with the Cortex Vortex from the end of the second game crashing into some sort of ancient temple, releasing something dark and menacing, speaking in a dark and menacing voice. I wonder if it'll be our friend. The scene cuts to Crash and co., who are having a nice day. Crash is doing his yo-yo tricks, Coco's on her laptop, and Aku-Aku is just floating about, when he hears that menacing voice. he hurries them into the house and explains that his evil brother Uka-Uka (Which is Aku-Aku backwards) is free, a force more menacing than anything else in the world. It is then cut to show Dr. Neo Cortex kneeling in front of Uka-Uka, trying to explain why he hasn't taken over the world yet, and that Uka-Uka has told him he is fed up of being failed upon....-facepalms- I'm sorry, but since when did Dr. Cortex have a boss? Since when was it mentioned that Uka-Uka was telling Cortex what to do? This is two of my pet peeves here, and I'm going to have to explain what I hate so much about this.
Before, in the first two games, all we saw was Cortex, being the evil villain he was and being crafty as he should be. You got to beat him up and felt immense pleasure of taking down an evil genius, who had hatched these plans by himself. That creates a development of character to this guy. You can at least admire he did all this stuff, but as long as you can admire how great he is, you can admire your own skills even more for taking down his henchmen and stop his evil plans, which you assume he thought it all through. It creates an evil villain worth liking to take down. It's a simple "evil genius is foiled" set up, and one that is very well done. How you're going to tell me that none of that was by Cortex's own accords? You're trying to tell me Uka-Uka was the one that told him he should try taking over the world? It takes all the admiration out of this guy you like to beat so much. It takes all the satisfaction out of it because he's not really the one behind all this, Uka-Uka is, and supposedly he always was. But there was nothing to indicate that. The first encounter with Cortex and Uka-Uka is Dr. Cortex saying "Look, I have a mask helping me too.", which further implies that they have never met to talked before!
The worst part about it, hitting my second pet peeve, is that this whole story line has now gone to the dogs because of the introduction of Uka-Uka. Before it was a nice and simple "defeat the evil genius", but now with the opposite force of the two masks clashing, it's now a cliche "good vs evil" fight, where Crash and Cortex are pawns in. I don't want thinking these main characters as pawns, I want to think of them as the main characters. In all the games after this one now, Crash team Racing, Crash Bash, and any after that which include these two masks in, I will see them as characters that follow orders "for the greater good" instead of just doing it to save the world or something because they felt it was right. There is always "something greater" at stake which just ruins the whole feel of the series. This plot device was just added to apply new ideas so it would make enough sense without thinking of them very much. Everything can easily be sorted by "good vs evil" without putting much effort into it. It's okay when "something evil" fights "something good", because that's not putting the entire universe at stake. But when "good" fights "evil", suddenly everything is so much more bigger without having to put emphasis on it. It takes the build up away after a while, and just gets cheap and old fast. I mean, it's cool thinking of Aku-Aku having a rival that matches his strength equally and then seeing them fight at the need it really awesome and all that, but what has begun as a generic evil villain plot has turned into a cliche good vs evil fight which anyone could come up with. Honestly, it's like poorly made fan fiction. -flips table and breathes-
Anyway, Uka-Uka gets Dr. N Tropy to contruct the Time Twister, a time machine so they can go back in time, retrieve the crystals and, you guessed it, TAKE OVER THE WORLD!!!!! Naturally, Crash, Coco and Aku-Aku go in and tries to stop them, who have somehow found the Time Twister in a flash. NNgggg, I hope there aren't any more plot holes...
The game play is straight forward. You have access to five levels and a boss in five zones (six zones when you collect enough relics). You can play any level you want in any order, but the boss level is locked until you collect the crystal in that level and complete all five. Defeating that boss will gain you a power up and access to the next zone. Despite the decoration around it, it posses no theme for those levels. Break all the crates in that level and you'll be awarded a gem (yes, you can die as many times as you like, this isn't the first game. This makes the entire feel of collection to satisfy ones OCD much more pleasurable). Sometimes there are two gems per level, and can only be obtained via using a Coloured Gem platform, which in turn can only be obtained in you can make it through a Death Platform, which you can only use if you can make it to that spot without dying. After gaining a crystal and completing a level, you can enter "time trail" mode. Complete the level quick enough will earn you a sapphire relic. There are also gold and even platinum relics to collect, in which the gold is only really needed for getting absolutely everything. There are two secret levels, which one if craftily hidden, and the second one requires you to find it by accident (it requires you to jump into an enemy, rather than on top of it, in a dinosaur stage). These stages will offer more relics and gems for you if you can complete them.
The graphics are pretty good. Not much seems to have changed from the first two games, but the graphics certainly seem to feel more roomy. Each of the animations is, as many PSX games are, smooth and lag free, to my up most delight. The enemies however seem to be a bit uncreative. About half are the same robot clone thing that wear slightly different disguises, while the other half at different enemies, such as jumping alligators snapping at you or giant robot mechs. The bosses are pretty neat though. The difficulty consistency of these bosses are a little off. The first two are pretty tricky, while the third (although awesome), was really easy. The design and structure of these bosses are really creative though, each one taking a different twist on how to defeat it, without having to rely on the power up you collected.
I would have thought power-ups in a Crash Bandicoot game wouldn't work out, but I was thankfully wrong. Although these power-ups are needed to progress further into the game, and it is made clear that you needed to use them to get further on just one or two levels, you can use them else where whenever you like. The double jump is disappointing, though. You slide and then jump to create a jump to get you further, and then you jump again and that seems to take out the speed you once had. Also, you can only do the second jump when you are a certain height in the air, which can really take the fun out of it. This double jump was meant for height, not distance, and I prefer doing mine for distance. Other than that, the Wumpa Bazooka is fun to use, and the ammo is free. It doesn't use the wumpa fruit you have already, but I guess since the fruit act like coins in Mario, then it would be a kind of jerky move to have some one have 99 wumpa fruits, and then collect another one, bringing it down to 0, making the next part impossible to progress. Smart move game =D
To describe the music in this game in one word: Oriental. It's more about matching the music style with the surroundings and countries than coming up with something that fitted one theme of a game, which pretty much works infinitely better than the latter. It's either catchy, atmospheric to the level theme, or both. It blends in well with the background, and when you get to the bonus rounds, it plays the same tune for every bonus stage, but it plays it in a different style depending on the style of the game, which is a really nice touch for keeping something that could be annoying and repetitive, and turning it into something fresher to make it last longer. The sound effects are a little loud in proportion to the music in the background, that's my only complaint on the matter.
The game controls rather well. It's practically unchanged since the first game. However, this game also included planes, motorbikes and even tigers and speedboats to control, each of which are fun to use. These extra things to use do get just a tad annoying and tedious near the end, but at least they didn't over do it. This was also one of the earlier games to include the Anolog Controller, not really remarkable, but what is remarkable in the humour on the back of the instruction booklet. It says that it;'s perfectly compatible with "Crash's motorbike....and the jet ski....and the bi-plane.....oh, and it's tiger compatible too." Through-out the game is this humour, through Cortex's dry remarks (in which Uka-Uka makes the whole thing feel out of place, speaking out of the blue that ruins the moment, like he's the one you should be paying attention too...-_-*), and more famously, the deaths. Nearly every death is unique to the situation, unlike the first game, which had half of them at the "black screen and spinning" death. These deaths are creative, and a fair few with Crash loosing his shorts. I dunno why that is, but it happens. These deaths make the who aspect of death almost seem more humorous than tedious. Almost.
Overall, I give this game an 8.8/10 The only really disappointing thing about this game is the plot device, which I have already explained in intense detail already. Everything else is finely crafted. It might not be the best PSX game, but it's certainly up there. The lack of Aku-Aku masks make getting three in a row all the more satisfying to use, making you feel like you can use the best of this. It's a fun game to play, and although it lasts a little short for my liking, it still offers enough time to make it worth any ones money.
Graphics
9
Sound
10
Addictive
9
Depth
9
Story
2
Difficulty
7
Crash Bandicoot 3: Warped Reviews
Overall 9.7 Graphics 8.9 Sound 9.4 Addictive 9.1 Story 8 Depth 9.5 Difficulty 5.1
10
Review of Crash Bandicoot 3: Warped
supremesonicbra..
I'm on a roll today! When you think a franchise can't get any better... Crash 1, Crash 2 and now th...
Graphics
10
Sound
9
Addictive
10
Story
10
Depth
10
Difficulty
8
Review Rating:
5/5
Submitted: 11-20-16
Review Replies: 1
8.7
Crash Bandicoot 3 Warped review
Zircron Swift
The Crash Bandicoot series was much loved in it's early years. A sense of comedy for a handful of de...
Graphics
9
Sound
10
Addictive
9
Story
2
Depth
9
Difficulty
7
Review Rating:
4.9/5
Submitted: 11-15-12
Review Replies: 0
10
Crash Bandicoot 3: Warped Review
earthwarrior
Overall 10/ 10: Crash Bandicoot is a great game series and I suggest you try it. This game has a lo...
Graphics
10
Sound
10
Addictive
10
Story
7
Depth
7
Difficulty
6
Review Rating:
4.8/5
Submitted: 07-09-13
Updated: 07-09-13
Review Replies: 7
10
Crash Bandicoot:Warped review
dennyjr22
The graphics in this game are very unique to any other PlayStation game.The colors are nice and vibr...
Graphics
9
Sound
8
Addictive
10
Story
9
Depth
10
Difficulty
4
Review Rating:
4.3/5
Submitted: 06-05-13
Review Replies: 3
10
Crash Warped Review
Mr_Miner_092
Ok, My next review, i hope you enjoy it :D Story: 10 I give it a ten because: It's actually an int...
Graphics
10
Sound
10
Addictive
10
Story
10
Depth
10
Difficulty
2
Review Rating:
4/5
Submitted: 07-01-13
Review Replies: 14
9.5
CrashBandicoot 3: Warped
marbleroll
Crash Bandicoot 3: Warped Review Overall: 9.5 Crash Bandicoot 3: ...
Graphics
8
Sound
9
Addictive
8
Story
8
Depth
10
Difficulty
4
Review Rating:
3/5
Submitted: 07-27-13
Review Replies: 1
10
Ah... the memories ;-;
sonicfan3000
Hey guys! finally. im reviewing crash bandicoot 3! lets go started! im sonicfan3000! &...
Graphics
7
Sound
10
Addictive
6
Story
10
Depth
10
Difficulty
1
Review Rating:
3/5
Submitted: 10-28-17
Review Replies: 0
Crash Bandicoot 3: Warped Highscores
There are no submitted highscores for this Game
Crash Bandicoot 3: Warped Speedruns
ruanito
1. 00:00:00
06-15-17 05:55 PM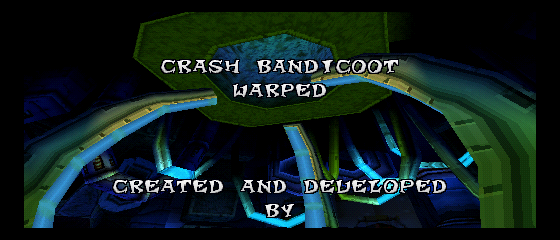 very difficult
pacman1755
2. 00:00:00
06-25-17 06:03 PM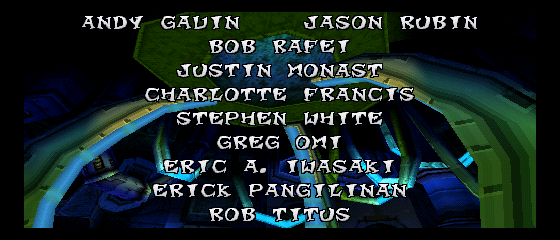 Whew
Crash Bandicoot 3: Warped Cheat Codes
Bonus Gem and 105% completion:
Get every coloured gem, crystal and grey gem in the game, and get at least a gold relic on every level (including the bonus levels), then walk up to Coco who is right of the "SAVE/LOAD" screen and she will award you with the final gem in the game, complete with victory fireworks.
Crash Bandicoot 3: Warped Threads
Crash Bandicoot 3: Warped Guides and Walkthroughs
There are no submitted Guides for this Game
Users who own Crash Bandicoot 3: Warped
Game Characters in Crash Bandicoot 3: Warped
Comments for Crash Bandicoot 3: Warped
arwingstarfight..
06-20-17 - 05:19 PM
So what gives with Crash 3 i'm trying to play it and it says the emulator is closed, I have the playstation item, and the other two crash games are working so why isn't this one?
akis2198
01-23-16 - 11:42 AM
please make crash games playable i love them
Dinkxx
12-22-15 - 03:40 AM
Awesome and timeless
lunabandid
05-19-15 - 06:15 PM
i´m so noob i dont know how to play XD
santiaw
05-11-15 - 09:54 PM
How to work??
Cybern*****123
11-30-14 - 11:07 AM
how do i get this game to work?
LadyMichaelis&l..
11-24-14 - 04:00 AM
Yay more nostalgia!!
MysteryMan007
11-15-14 - 12:35 AM
Who dosen't want more good material, with this one said to be as good as the first two, that's exactly what you get.
Totts
11-02-14 - 05:20 PM
Crash is the best
kirbydude32
10-19-14 - 08:47 PM
This game was my life when i was growing up and it led me to loving this awesome orange bandicoot
Firstaid223
08-22-13 - 01:23 AM
This was the thing that introduced me to video gaming, I hope my PS2 never breaks!
Ryroe
08-07-13 - 10:36 AM
Me too. The old Crash games just were the best. Now compare them to the "new" crash trash. (lol, rhyming)
8bitNESPlayer
07-04-13 - 02:22 PM
I remember playing this on my old Playstation yet.