Pocket Fighter (PSX) - Playstation
Pocket Fighter is a Fighting game developed by Capcom Co., Ltd. and published by Capcom Entertainment, Inc. in 1998 for the Playstation.
Pocket Fighter (Playstation) Screenshots
Videos of Pocket Fighter Gameplay
There are no submitted videos for this Game
Pocket Fighter Game Description
What happens when you take several signature Capcom fighters, squish them down into chibi (small or SD) versions of themselves, and give them a whole collection of wacky moves and over-the-top costumes? You get Pocket Fighter! Take on one of several pint-sized Capcom characters in this wacky, colorful fighting game.
Pocket Fighter Reviews
Overall 9 Graphics 9 Sound 7 Addictive 10 Story 4 Depth 4 Difficulty 7
8
Pocket sized fighters, big fun
SagaTheShifty
Pocket fighters is a silly, one off title that features characters from Darkstalkers and The street ...
Graphics
9
Sound
7
Addictive
10
Story
4
Depth
4
Difficulty
7
Review Rating:
1/5
Submitted: 08-28-16
Review Replies: 0
Pocket Fighter Highscores
Supermatt6534
1. 938,101
TimeTrial:
00:00:00
09-12-17 02:44 PM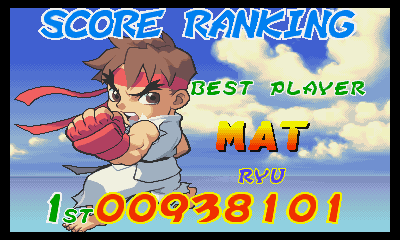 Pocket Fighter Threads
There are no submitted threads for this Game
Pocket Fighter Guides and Walkthroughs
There are no submitted Guides for this Game
Users who own Pocket Fighter
There are no users who own this Game
Game Characters in Pocket Fighter
Comments for Pocket Fighter