Play Captain Planet & the Planeteers Online GEN Game Rom - Sega Genesis Emulation on Captain Planet & the Planeteers (GEN)
Captain Planet & the Planeteers Box Description
Fight real ecological threats through nine levels of deadly pollution. Five eco-heroes summon Earth, Fire, Wind, Water and Heart to defend our planet from destruction! With magic energy, they combine forces to summon Captain Planet, the champion crusader for Earth safety!
Captain Planet & the Planeteers Screenshots
Videos of Captain Planet & the Planeteers Gameplay
There are no submitted videos for this Game
There is currently no one playing this online
Captain Planet & the Planeteers Featured Review
Captain Planet & the Planeteers Review by:
Totts
- 9.1/10
Captain Planet
Those were the days when cartoons have taught the kids more than "You must now possess these cards!"
or "catch these Pokémon, by buying our expensive items!".
Do not get me wrong net, I like "Yu-Gi-Oh!"
or "Captain Tsubasa" - but the kids will be indoctrinated today, only the absolute consuming.
Although at that time was like that, but there was still series, which conveyed a different values, just like "Captain Planet".
The Earth is dying. Ruthless villains destroy nature for their own profit. That is to Gaya, Mother Earth, no longer accept and creates five rings with five powers: fire, water, earth, wind, and love. These rings are 5 boys and girls from 5 different continents. Together they form the planets and try to team together with the Captain Planet villains make their lives difficult. And so it goes in this game by Mindscape. The game is a mixture of shoot'em up and action. Alternately you control the airship on the planet, and Captain Planet team in darkly futuristic indoor environments.
Sections in the game with the Planet team has to maneuver the ship sent
flying, fire and wind to shoot the enemy, rescue animals with love,
stay with Earth oil transporters and clean water with contaminated
animals. The controls are very simple.
A is the action button, with B you determine the direction of flight,
starting with the one selected with Select elements and pauses it. After the team level with the planet you get a password and it follows the UNION of the powers to summon Captain Planet. With this, the game turned into an action game. It flies through large dark areas filled with poison, robots and garbage. Either you come in with the whole muscle, or it turns into fire balls, beach balls or wind roses, to overcome the obstacles. At the end of level bosses, of course, wait, that can be overcome only by skillful tactics.
Generally the game is still very difficult and requires lots of practice. But like the team level with the planet are very varied. Time shoots rockets you through countless times and it pursues oil transporters, which is not exactly easy.
The graphics are what one should expect otherwise from Mindscape, is
very good and so far bleaker than the series, but what gives the whole a
very adult style.
The music was not for the game this time taken from the series but
composed completely new and adapts well to the events on the screen.

It amazes me why it was then managed to program a good licensed title
while throwing today only so unkind clapping games on the market. The game is relatively difficult, but extremely motivated. Finally, you will always know what you must do next. The levels are a feast for the eyes, but I mentioned that already. The game definitely has a unique game play and is one of the lost gems of action at that time.
Graphics
8
Sound
9
Addictive
8
Depth
8
Story
8
Difficulty
9
Captain Planet & the Planeteers Game Description
Children growing up in the early 90s were worried about impending environmental doom. The popular Captain Planet cartoons told them they were doomed, unless a superhero could be formed by a multinational group of youths (the Planeteers of the title), to take on the polluters and deforesters.Each of the five levels of this platform game has a specific mission and boss, and is undertaken by a specific Planeteer. These involve destroying hazards, shooting enemies, moving across suspended poles, and jumping onto ledges. You have four energy and four power units - more can be collected up to a limit of 8, and they will always be recharged to four (if necessary) when you reach a boss. You have an unlimited standard shot and a more powerful Super shot, which drains power.
Captain Planet & the Planeteers Reviews
Overall 7.3 Graphics 8 Sound 9 Addictive 8 Story 8 Depth 8 Difficulty 9
9.1
Captain Planet
Totts
Those were the days when cartoons have taught the kids more than "You must now possess these cards!"...
Graphics
8
Sound
9
Addictive
8
Story
8
Depth
8
Difficulty
9
Review Rating:
5/5
Submitted: 09-05-11
Review Replies: 1
Captain Planet & the Planeteers Highscores
ARedLetterDay
1. 21,450
TimeTrial:
00:06:24
07-06-14 05:56 AM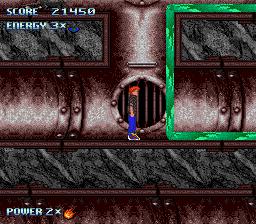 Ecgh.
Captain Planet & the Planeteers Threads
There are no submitted threads for this Game
Captain Planet & the Planeteers Guides and Walkthroughs
There are no submitted Guides for this Game
Users who own Captain Planet & the Planeteers
There are no users who own this Game
Game Characters in Captain Planet & the Planeteers
Comments for Captain Planet & the Planeteers