Play Superman Online C64 Game Rom - Commodore 64 Emulation on Superman (C64)
Play Superman online with Commodore 64 browser emulation for free! Superman (C64) game rom is loaded with features in our flash, java and rgr plugin emulators. Nothing to configure, we've done it for you!
Superman Screenshots
iexists
09-03-15 12:33 PM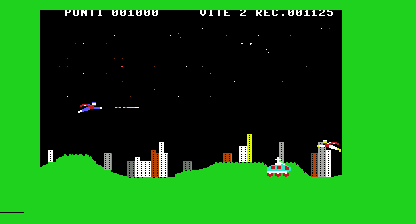 3/5
Edit Screenshot
Level:
a regular day in Superman's life
Videos of Superman Gameplay
There are no submitted videos for this Game
Superman Game Description
In this Jump'n Run, you take on the role of the Man of Steel and must free Metropolis from criminals in several missions.You start the game as Clark Kent, but as long as you have enough energy, you can change into Superman. Apart from jumping and punching, Superman can also use different super powers such as Heat Vision, X-Ray Vision (makes certain enemies visible), two kinds of Super Breaths (one that freezes certain enemies) and Super Flight which takes him to different locations.

Superman Reviews
There are no submitted reviews for this Game
Superman Highscores
There are no submitted highscores for this Game
Superman Threads
There are no submitted threads for this Game
Superman Guides and Walkthroughs
There are no submitted Guides for this Game
Users who own Superman
There are no users who own this Game
Game Characters in Superman
Comments for Superman
There are no submitted comments for this Game