Play PokeMon Trading Card Game 2 (en) Online GBC Game Rom - Game Boy Color Emulation on PokeMon Trading Card Game 2 (en) (GBC)
Play PokeMon Trading Card Game 2 (en) online with Game Boy Color browser emulation for free! PokeMon Trading Card Game 2 (en) (GBC) game rom is loaded with features in our flash, java and rgr plugin emulators. Nothing to configure, we've done it for you!
PokeMon Trading Card Game 2 (en) Game Description
(Incomplete translation patch) The greatest Pokemon Trading Card Game players of all time - the Grand Masters - are looking for one player worthy of inheriting the four rare, Legendary Pokemon Cards! Build new decks with the Auto Deck Machine, hone your skills on the Challenge Machine and test your ability in Challenge Hall. Expand your card collection, duel your way through 8 Club Masters and earn the right to challenge the Grand Masters in the Pokemon Dome! Shadowy figures, wise instructors and powerful opponents await in the ultimate trading card game adventure.
PokeMon Trading Card Game 2 (en) Screenshots
NeppyLeet
05-06-13 08:17 PM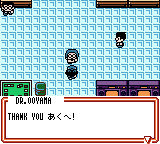 4.8/5
Edit Screenshot
Cut-Scene:
I wish I could reaed Japanese characters...
Videos of PokeMon Trading Card Game 2 (en) Gameplay
NeppyLeet
05-06-13 09:19 PM
00:34:46
Views: 64
5/5
Vizzed.com Play
PokeMon Trading Card Game 2 (en) Featured Review
PokeMon Trading Card Game 2 (en) Review by:
Redrunelord
- 4/10
Pokemon Trading Card Game 2
Expansion is a common human desire. Typically, humans will desire more and more than what is given to them, with few exceptions. It is through this desire for more that technology should advance, society moves forward (and backwards at times due to over-advancement)
and sequels be made. The quality of these newer versions are often heavily scrutinized if the predecessor has set any standards (for instance, GhostBusters 2 received a bad reputation for not being as good as the original, which was a hard task to begin with). Sometimes, however, the criticism is legitimate and the second truly do fail.
What is considered a flop and a success based purely on its predecessor is very difficult to answer accurately as it is a very narrow margin to work with, especially if a series is a high grade to begin with. Ghostbusters 2 is considered a failure by some due to it being inferior to its predecessor, despite still maintaining a high grade. On the contrary, when a film or game appears superior to a predecessor, it may become overrated and/or raise expectations to unreasonable levels to future games/movies. There are fine lines between a passable sequel, an exceptional sequel (in perception) and an unforgivable atrocious sequel (in perception).
Previously, a review of the first Pokémon Trading Game was posted in these forums, and it largely gave a lukewarm evaluation. However, how does the original fare against a newer counterpart? Specifically, how does it compete against said counterpart when the version being played is a home brew English translation of the original Japanese version?
Visually the game is almost identical, but a gender option has been enabled for the player, which is a simple, but good, addition. As well, the coin has been changed from a yellow-gold Pikachu to a larger, silver Chansey coin. Otherwise, the visuals are largely the same, not a lot to say. The areas are similar, and the overall style of the sprites and background images remain largely unchanged. Audio-wise, the style is similar, but conveys a much more chaotic soundtrack. The music is largely an eight bit mess, but the biggest problem is that it in no way suits the mood of the game: It is overly hyper and happy despite the tone early on. Overall, a complete failure as where there should have been an improvement only a demotion could be applied.
The last game suffered from an overly absurd story-line, but the story-line in the sequel would appear improved. Basically, an unknown group, presumably aliens or masked individuals, have stolen all the valuable cards and the club leaders. That is a plausible story-line, as seemingly worthless artefact's in the modern world are stolen for profit or notoriety. What don't make sense, however, is what value the cards would have to an alien species, which is what the player would initially assume. As well, why would the player be sent to sort all of this out by playing card games? This is never explained because of a major flaw in this game, and one that makes the title of it a complete lie.
A lack of translations.
As the game starts, the player is treated to English text as promised. However, it isn't long into the game before the player is forced to start reading a plethora of Japanese: Virtually nothing after the first few minutes are translated in the slightest manner, with the exception of a few names. Asides from rendering the potentially interesting story line as useless as paper money was to Robinson Crusoe when alone on the island, the game play is potentially ruined. This can render the game virtually unplayable because most, if not all, of the moves and information are in Japanese characters.
The only three protocols that can be taken if the player wishes to play are the following:
A - The player learns to read Japanese if they don't know how to already.
B - The player memorizes what moves does what IF a translation is unavailable.
C - The player ignores all of this and guesses the whole time.
If the player is unwilling to comply with any of these three, then the game's value drops significantly. However, there are slight improvements, such as a more accessible deck customization tool instead of going back to the lab repeatedly. As well, the game is closer to the idea of starting out low and working the way to the top like a Pokémon Card wielding Rocky Balboa. Since the game-play mechanics are largely the same, with the coin flips slightly altered potentially because of the option to change coins, then it serves as an expansion pack to the original game. The game play mechanics aren't much different though, as it still follows the exact same card game.
To conclude a rather quick overview of this game, here is little that can be said that hasn't been said already about its predecessor, and recycling a review for the first game in this brief series is a feasible possibility. That is the other tragic flaw of this particular sequel: too little has changed to warrant the necessity of a sequel to begin with. That is likely the reason why there was not an international release for this game. If one could get past the lack of innovation, for better or for worst, and the Japanese text, it is worth checking out. However, if a player disliked the original, hates trying to sort through this text and expects something new...then defenestration is the only appropriate protocol that can be taken.
Graphics
6
Sound
1
Addictive
1
Depth
4
Story
4
Difficulty
4
PokeMon Trading Card Game 2 (en) Reviews
Overall 7.7 Graphics 6 Sound 1 Addictive 1 Story 4 Depth 4 Difficulty 4
4
Pokemon Trading Card Game 2
Redrunelord
An Official Staff Review...
Graphics
6
Sound
1
Addictive
1
Story
4
Depth
4
Difficulty
4
Review Rating:
4.1/5
Submitted: 07-09-11
Updated: 07-10-11
Review Replies: 2
PokeMon Trading Card Game 2 (en) Highscores
There are no submitted highscores for this Game
PokeMon Trading Card Game 2 (en) Threads
PokeMon Trading Card Game 2 (en) Guides and Walkthroughs
There are no submitted Guides for this Game
Users who own PokeMon Trading Card Game 2 (en)
Game Owner Name
Completeness
Condition
B
T
S
Play Online
Comments for PokeMon Trading Card Game 2 (en)
mjabcd1234
07-26-12 - 07:59 PM
*Works.*
mjabcd1234
07-26-12 - 07:59 PM
Donkey_Mario is right. It workds As for you Legendofben, Press start then press diary (Lol.)
LegendofBen
07-07-12 - 07:20 PM
How do i save?
Donkey_Mario
06-16-12 - 06:25 AM
Play this one here in the link, its a real translation http://www.vizzed.com/playonlinegames/game.php?id=43903
helanhalvan
05-25-12 - 07:39 AM
wops, I mean't the first GBA pokemon tcg.
helanhalvan
05-25-12 - 07:39 AM
now it's @ least 25% translated, but until it's all done, you can play the first pokemon tcg (fully working on this site).
spongeboy6
05-05-12 - 11:01 AM
hi peo
E_TEAMERS
04-05-12 - 12:59 PM
F*** THIS GAME! I CANNOT READ IT! I HAVE REAL CARDS AND ONE OF THEM IS CHANDELURE IN NEXT DESTINES> CHECK IT ON SEREBII>COM!
mariobros14
04-02-12 - 11:47 PM
Anyone on??
prototyp
12-25-11 - 09:01 PM
where is the download link ?
pippy510
09-05-11 - 02:53 PM
really not hard to understand... really simple :D and i was able to do my name yay!
matty123456
08-28-11 - 07:24 PM
anyone on
Mark3120
08-17-11 - 05:00 PM
translation plz?
JPACK22
07-31-11 - 12:06 PM
Is there a way that you could translate the REST of the game, please?
jayden69
06-23-11 - 03:47 AM
i used to be able to read japenese not anymore :(
Khedran
06-17-11 - 03:57 AM
It starts off english but quickly gets to all japanese and the cards are in all japanese when looking at abilities. I remember some but not others so this is a killer for me, which is a shame cuz I really wanted to play the sequel... hopefully a full Eng
Kristoffer1
06-14-11 - 04:00 AM
woohoo!!! another trading card game!!!
mrkoolnerd
05-29-11 - 12:05 PM
i guess it's good i know Japanese
mrkoolnerd
05-29-11 - 12:03 PM
hi
Sergenious
05-13-11 - 03:26 PM
wish it was completely translated or atleast all the cards..
akirarene
04-23-11 - 06:31 PM
lol is in english
spennymac
03-30-11 - 09:14 PM
this is not really translated.
hundicasm
03-11-11 - 09:26 PM
wish I could read Japanese...
t1e2n3g4
02-13-11 - 07:31 AM
hello
christhegamer
12-29-10 - 06:42 PM
cool