Play Son Son Online NES Game Rom - Nintendo NES Emulation on Son Son (NES)
Play Son Son online with Nintendo NES browser emulation for free! Son Son (NES) game rom is loaded with features in our flash, java and rgr plugin emulators. Nothing to configure, we've done it for you!
Son Son Screenshots
Jordanv78
04-18-14 02:00 AM
3/5
Edit Screenshot
Gameover:
Eclipsed my high score in a netplay session!
Jordanv78
04-27-12 06:25 PM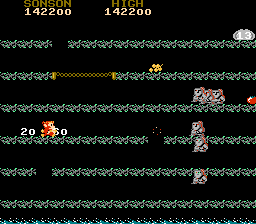 3/5
Edit Screenshot
Jordanv78
04-27-12 06:25 PM
3/5
Edit Screenshot
Videos of Son Son Gameplay
There are no submitted videos for this Game
Son Son Game Description
In this game, you play the role of either Son Son or Ton Ton as you try to rescue your three friends from the clutches of a random bad guy who kidnapped them right in front of you. This game is a side scrolling adventure, where the game field advances automatically, and the screen is divided in six different floors, all of which are populated by enemies or obstacles that will kill you if you touch them; but both Son Son and Ton Ton attack their enemies by shooting small bullets at them out of their weapons (a magic cane and a pitchfork, respectively). Their attack can also stop many enemy projectiles! Your chosen character must jump from floor to floor, evading hunters, bats, fish, statues, insects, skull coins, and mad bombers! As you advance, you can pick up several food items to increase your score. Clearing the screen of enemies will also net you several hefty bonuses.

The story is heavily based upon "Journey To The West"; the player characters as well as the kidnapped ones are based upon the main characters in the story. This game is also a port of Capcom's original arcade game.
Son Son Reviews
There are no submitted reviews for this Game
Son Son Threads
There are no submitted threads for this Game
Son Son Guides and Walkthroughs
There are no submitted Guides for this Game
Users who own Son Son
There are no users who own this Game
Comments for Son Son
Jordanv78
12-09-10 - 12:08 PM
I have a few horror stories I could tell you about being a kid and playing this in the arcade (The arcade version was much more difficult) I rediscovered it on an Arcade compilation disk for the ps2..... SOB