Play Winter Gold Online SNES Game Rom - Super Nintendo Emulation - Playable on Winter Gold (SNES)
Play Winter Gold online with Super Nintendo browser emulation for free! Winter Gold (SNES) game rom is loaded with features in our flash, java and rgr plugin emulators. Nothing to configure, we've done it for you!
Winter Gold Screenshots
G@mehe@d
08-04-14 08:32 PM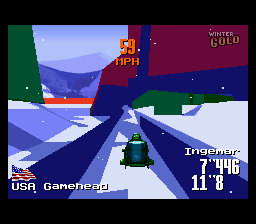 3/5
Edit Screenshot
Level:
Impressive, but unresponsive controls.
Videos of Winter Gold Gameplay
There are no submitted videos for this Game
Winter Gold Game Description
Winter Gold is a winter sports game with events like bobsled, ski jump and snow boarding, all in a 3D graphics environment.Both single player and multi player options are available; you can play with up to eight people in compete mode.

Winter Gold Reviews
There are no submitted reviews for this Game
Winter Gold Highscores
There are no submitted highscores for this Game
Winter Gold Threads
There are no submitted threads for this Game
Winter Gold Guides and Walkthroughs
There are no submitted Guides for this Game
Users who own Winter Gold
There are no users who own this Game