Play Super Mario R. Online NES Rom Hack of Super Mario Bros - Super Mario R. (NES)
Notice
Game not playable for following reason:
Removed by Nintendo of America Inc.
You can load your own games manually here:
PLAY YOUR GAMES
You can find more games on our affiliated site here::
PLAY.ROM.ONLINE
Games with similar genre, developer, etc
Super Mario R. Game Description
Bowser is playing with fire in this new mario hack.
All the enemies have been replaced with different ones.
The levels graphics change everytime you exit/enter a room.
The order of how the levels are played is completly unpredictable!
Super Mario R. Screenshots
Videos of Super Mario R. Gameplay
coco7070
03-20-13 09:12 PM
00:11:56
Views: 210
3.3/5
Vizzed.com Play 1
Super Mario R. Reviews
Overall 8.6 Graphics 5 Sound 5 Addictive 3 Story 1 Depth 6 Difficulty 9
4.8
what the heck
RedHotReviewer
There isn't much to say here except for the fact it is a Mario ROM hack and I enjoy reviewing them. ...
Graphics
5
Sound
5
Addictive
3
Story
1
Depth
6
Difficulty
9
Review Rating:
3/5
Submitted: 08-16-13
Review Replies: 2
Super Mario R. Highscores
CorruptionSound
1. 802,800
TimeTrial:
00:49:18
02-14-14 01:44 PM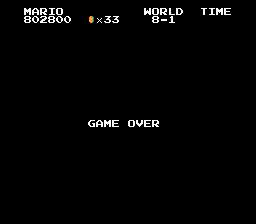 Super Mario R. Threads
There are no submitted threads for this Game
Super Mario R. Guides and Walkthroughs
There are no submitted Guides for this Game
Users who own Super Mario R.
There are no users who own this Game
Game Characters in Super Mario R.
Comments for Super Mario R.
ihateschool2004
12-08-14 - 01:22 PM
@below No, it's not.
GameBoy1023
02-10-14 - 07:36 PM
This is the New Strange Mario Bros!
ami5964
05-05-12 - 03:38 AM
game over
ami5964
05-05-12 - 03:36 AM
good
DarthDub
04-14-12 - 07:27 PM
Challenging if you're not careful.