Play Sonic Zeta Overdrive Online GEN Rom Hack of Sonic the Hedgehog 2 - Sonic Zeta Overdrive (GEN)
Play Sonic Zeta Overdrive online with Sega Genesis browser emulation for free! Sonic Zeta Overdrive is a rom hack of Sonic the Hedgehog 2 (GEN). Play it with our flash, java and rgr plugin emulators. Nothing to configure, we've done it for you!
Sonic Zeta Overdrive Game Description
Features
*New Level Layouts
*New Palettes
*New Music
*11 Levels
*Sonic 2 Clone Driver
*Flying for Tails
*Super Peel-Out, and Jump Dash for Sonic
*New level art
*Bean the Dynamite as a Playable character
*Kula Diamond from The King of Fighters 2000 as a boss
Sonic Zeta Overdrive Screenshots
Videos of Sonic Zeta Overdrive Gameplay
Thebiguglyalien
10-23-14 03:55 AM
00:50:58
Views: 275
3/5
Vizzed.com GamePlay (rom hack)
There is currently no one playing this online
Sonic Zeta Overdrive Reviews
Overall 7.2 Graphics 7 Sound 8 Addictive 7 Depth 6 Difficulty 5
6.5
Sonic Zeta Overdrive
darklink10904651
Sonic Zeta Overdrive brings a few new things to the table,so lets cover those first. This game is a...
Graphics
7
Sound
8
Addictive
7
Depth
6
Difficulty
5
Review Rating:
4.5/5
Submitted: 02-07-13
Updated: 02-14-13
Review Replies: 3
Sonic Zeta Overdrive Highscores
Ishtar87
1. 208,910
TimeTrial:
01:32:15
04-12-13 02:30 PM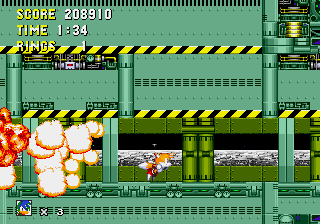 my score
Sonic Zeta Overdrive Cheat Codes
-When you are fighting the MTZ3 boss as Tails, hitting the boss while flying can cause the boss to explode like an enemy, and the level will not be completable with Tails.

-When you are fighting the ARZ2 boss as Tails, Eggman cannot get hit from the bottom of the eggpod.
Sonic Zeta Overdrive Threads
There are no submitted threads for this Game
Sonic Zeta Overdrive Guides and Walkthroughs
There are no submitted Guides for this Game
Users who own Sonic Zeta Overdrive
There are no users who own this Game
Comments for Sonic Zeta Overdrive
darksonic12
06-29-15 - 05:20 PM
Come on this game isn't that bad. Now I will admit somethings could have been better but it was decent enough 7/10 for me.
mrkoolnerd
12-06-12 - 09:14 PM
some of the levels are unfinished ex.wood zone
mrkoolnerd
11-07-12 - 02:45 PM
i gave it a 4.5 and i thought that was generous
WanderingHero
07-19-12 - 10:21 AM
People gave this 10s? It really isnt very good. Mostly just lazy copy pasted levels with a few trivial changes or poorly thought out nonsense like having he chemical plant zone bosse's tiles flip in less than a second and kill you with ludricorus ease.
valysteeler29
07-17-12 - 11:32 AM
bean invented the game, right?
valysteeler29
07-17-12 - 11:15 AM
guys bean jumps just press D
step1233444
07-14-12 - 07:44 PM
um super sonic music is the s factor of super silver!
sonic the hedge..
06-09-12 - 02:35 PM
bean cant jump
IceKirby
06-06-12 - 08:14 AM
Kirby Zeta Overdrive
justin99
05-25-12 - 10:26 PM
blox64 mine does 2 ._.
pauler124
05-09-12 - 06:13 AM
download google chrome
blox64
05-02-12 - 04:56 PM
no hacked games work for me. the computer's screen stays bkack D:
shadic_x
04-30-12 - 06:27 PM
yes
shadic_x
04-30-12 - 06:16 PM
ok is perfect
shadic_x
04-30-12 - 06:14 PM
no perfet
trickstermind
04-07-12 - 03:36 AM
the peelout can make these levels go by REALLY quickly if you use it right
formula74
03-23-12 - 12:26 AM
hidden palace zone is gorgeous it's a shame you haven't finished it... you should put knucklues as the boss. Bean should throw bombs, that would be awesome, hope you finish the hack
jesseandsonic
03-20-12 - 12:38 PM
Found a bug on Death egg; If you go to silver sonic area ramp you'll move right through it!
superLuigi87
03-20-12 - 10:23 AM
every single time i try to load a genesis game i get a black screen!!!
thethirdlockett
03-15-12 - 05:06 PM
bean why you no jump
thethirdlockett
03-14-12 - 05:27 PM
fun game
PoyoPoyo
03-08-12 - 10:10 PM
Hi
muppetsrule76
03-07-12 - 06:31 PM
hi