Play Rygar - Legendary Warrior Online AL Game Rom - Atari Lynx Emulation on Rygar - Legendary Warrior (AL)
Play Rygar - Legendary Warrior online with Atari Lynx browser emulation for free! Rygar - Legendary Warrior (AL) game rom is loaded with features in our flash, java and rgr plugin emulators. Nothing to configure, we've done it for you!
Rygar - Legendary Warrior Box Description
he odds are against you, but you are the chosen one, Rygar. So pick up your shield, whisper the protection spell, and scream your warcry as you fight your way through 23 levels of lush landscapes and blood curdling creatures.
Rygar - Legendary Warrior Screenshots
Videos of Rygar - Legendary Warrior Gameplay
iN008
05-03-13 02:10 PM
00:12:18
Views: 1,774
4.7/5
Rygar: Legendary Warrior (Atari Lynx, 1990)
Vanelan
06-28-15 01:50 PM
00:19:18
Views: 14
3/5
Vizzed.com GamePlay
Rygar - Legendary Warrior Game Description
An evil being known as Ligar is about to conquer the land of Argool. Such is his power that no living creature dares to cross paths with him. But the legendary warrior Rygar rises from his grave to restore peace and justice. Armed with his famed weapon Diskarmor, Rygar begins to traverse the vast lands that lead to the lair of the demon, as his minions are trying in vain to stop him...

Originally released on the arcades, Rygar is a side-scrolling action game. The player controls the titular hero, advancing through stages populated by hostile creatures. Beside the Diskarmor, a weapon that looks like a shield with a chain attached to it, the hero can use a variety of other weapons, including projectiles that can be fired in four directions. Various "powers" are scattered through the levels and can be collected. The effects of these powers include increasing the fire power of the equipped weapon, adding time to the clock, temporary invisibility, extra points, etc.
Rygar - Legendary Warrior Reviews
There are no submitted reviews for this Game
Rygar - Legendary Warrior Highscores
CorruptionSound
1. 1,060,590
TimeTrial:
00:38:33
06-20-13 08:58 AM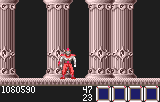 Rygar - Legendary Warrior Cheat Codes
Level skip:
Every level has a location that allows you to advance to the next level by pressing Option 1 + Option 2 + A + B.

Floating shield:
Activate a forward shield, then press Option 1 + Pause to restart the game. The shield will be floating in front when game play resumes. Note: The shield will turn to normal after you fire a weapon.

Level 19 bird:
Wait until a bird to appear from the left side on level 19. Jump on the bird as it approaches and ride it across the screen to pass the difficult sections of the level. Jump to the right with each bounce to stay above the same bird. Kill the bat when it appears.
Rygar - Legendary Warrior Threads
There are no submitted threads for this Game
Rygar - Legendary Warrior Guides and Walkthroughs
There are no submitted Guides for this Game
Users who own Rygar - Legendary Warrior
There are no users who own this Game
Comments for Rygar - Legendary Warrior