Play Firetrap Online C64 Game Rom - Commodore 64 Emulation on Firetrap (C64)
RGR Plugin Emulators (Recommended)
Games with similar genre, developer, etc
Firetrap Screenshots
no 8120
04-26-17 02:21 PM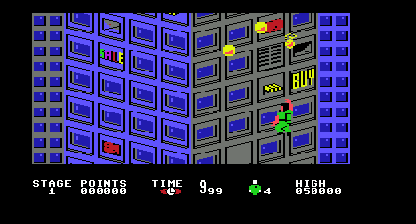 5/5
Edit Screenshot
Misc:
click right arrow key to go to grey side
no 8120
04-26-17 02:20 PM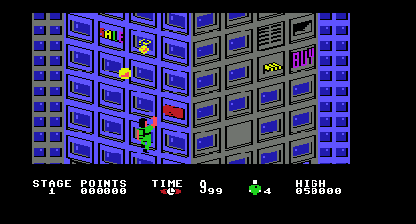 5/5
Edit Screenshot
Level:
stage 1
no 8120
04-26-17 02:19 PM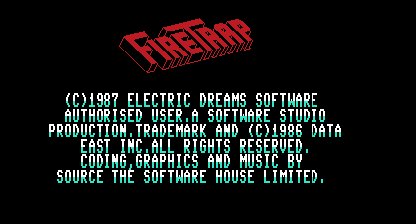 3/5
Edit Screenshot
Introduction:
introduction
Videos of Firetrap Gameplay
There are no submitted videos for this Game
Firetrap Game Description
A girl is trapped on the top floor of 16 burning skyscrapers, and as a firefighter, your mission is to climb up these skyscrapers and put out the flames that shoot through the building's windows, threatening every single floor. You'll also rescue other people trapped inside. Your mission becomes difficult by falling objects and fireballs, and even the flames shoot sparks in any direction at any time.

You can use the water spray on the flames to distinguish them. Doing so will occasionally reveal cash and other special items, which include: the 3-way water spray, which allow you to extinguish flames north, east, and west of you; invincibility, to make you invincible for a few seconds; and speed, which boosts you up several floors.

You start the game with four lives. You'll lose any one of these lives by coming in contact with fire and falling objects, running out of time before rescuing the girl, or getting the speed power-up when you are near the top of the building.

Firetrap Reviews
There are no submitted reviews for this Game
Firetrap Highscores
There are no submitted highscores for this Game
Firetrap Threads
There are no submitted threads for this Game
Firetrap Guides and Walkthroughs
There are no submitted Guides for this Game
Users who own Firetrap
There are no users who own this Game
Comments for Firetrap
There are no submitted comments for this Game