Play Dig Dug Online APPLEII Game Rom - Apple II Emulation on Dig Dug (APPLEII)
Play Dig Dug online with Apple II browser emulation for free! Dig Dug (APPLEII) game rom is loaded with features in our flash, java and rgr plugin emulators. Nothing to configure, we've done it for you!
Dig Dug Screenshots
Ferdinand
07-29-15 08:58 PM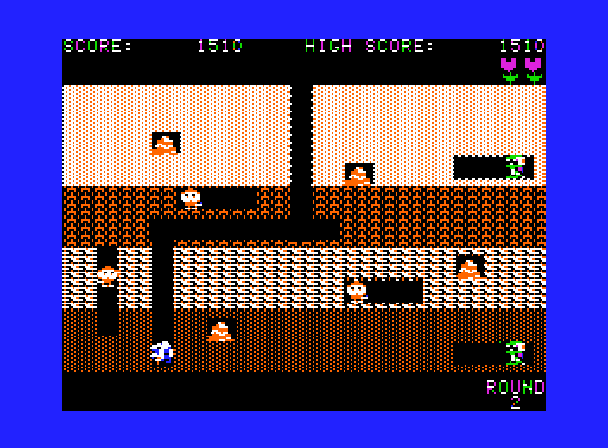 3/5
Edit Screenshot
Level: Round 2
Gameplay
Videos of Dig Dug Gameplay
There are no submitted videos for this Game
Dig Dug Game Description
Dig Dug is a 1-2 player arcade game in which you have to use your shovel to dig your way through the earth. Stopping you from doing this are two monsters, called Pooka and Fygar, who will continually chase you around. The only weapon that you carry is an air pump, which you can use to inflate the monsters to the point where they explode. (if you start to inflate them but stop doing so, the monsters will get turned back to their normal selves.) Furthermore, rocks are scattered throughout the earth, and you can use these rocks to squash them. If the monsters do not find you for several seconds, they will eventually get turned into ghosts, which are able to walk through the earth. They are invincible and cannot be killed. From time to time, vegetables will appear in the center, and you can get these for points.

Dig Dug Reviews
Overall 8.2 Graphics 6 Sound 1 Addictive 1 Depth 4 Difficulty 6
Dig Dug Highscores
There are no submitted highscores for this Game
Dig Dug Threads
There are no submitted threads for this Game
Dig Dug Guides and Walkthroughs
There are no submitted Guides for this Game
Users who own Dig Dug
There are no users who own this Game
Game Characters in Dig Dug