Play 89 Dennou Kyuusei Uranai Online NES Game Rom - Nintendo NES Emulation on Retro Game Room
RGR Plugin Emulators (Recommended)
Games with similar genre, developer, etc
89 Dennou Kyuusei Uranai Screenshots
Seishiro Leonha..
04-01-13 06:16 PM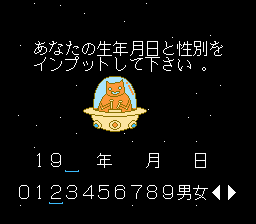 3/5
Edit Screenshot
Videos of 89 Dennou Kyuusei Uranai Gameplay
There are no submitted videos for this Game
There is currently no one playing this online
89 Dennou Kyuusei Uranai Game Description
This game is a simulation of horoscope/fortune-telling. In the beginning of the game, you enter your name, then choose your birthday and sex. Depending on your choice, you'll see a planet that rules your destiny from now on. After that you go through a variety of menus and sub-menus to learn about your life. You can discover what generally awaits you in life or simply enter an exact date and read your horoscope for it. You can check out the status of your health and your lucky items, as well as learn what kind of a person you are. Naturally, you can also add the data of another person, and see if there is a possibility of a romantic relationship between you two.
89 Dennou Kyuusei Uranai Reviews
There are no submitted reviews for this Game
89 Dennou Kyuusei Uranai Highscores
There are no submitted highscores for this Game
89 Dennou Kyuusei Uranai Threads
There are no submitted threads for this Game
89 Dennou Kyuusei Uranai Guides and Walkthroughs
There are no submitted Guides for this Game
Users who own 89 Dennou Kyuusei Uranai
There are no users who own this Game
Comments for 89 Dennou Kyuusei Uranai
There are no submitted comments for this Game