Thanks madison. I see that info now on the bottom left of the reply box. I honestly had no idea what that stuff meant so thanks again as I probably would not have figured it out. Sorry for being so computer illiterate.
Here's my first submission:
Title: Samus Aran - Journal Entry #3412
Ah yes, just another day fighting brain like monsters that enjoy
taking over worlds. According to this one's dating profile they also
like long walks in secluded hollows below planet surfaces.
I respond to a distress call from the space station only to find everyone
sleeping on the job and the metroid is missing! Maybe I should have come
straight here instead of going to the station's kitchen first.
Thank God, there you are Mr. Metroid. With some of Ridley's favorite
dragon treats I was able to procure the metroid larva from his fatherly
like protective grasp.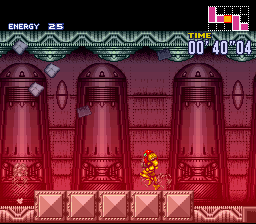 Now what?!? The whole place is coming down. Crap, I knew I left the
stove on in the station's kitchen. Time to get out of here but first
I need to stop by the little girl's room.
Phew! Barely made it. The incendiary nature of the incident will
destroy any evidence... I hope. Lesson learned: They really shouldn't
use gas stoves in outer space.